BAD news for Petron fans: Alex Cabagnot is out of Game Three of the PBA Governors Cup Finals against San Mig Coffee and doubts if he can play in Game Four.
Cabagnot confirmed he tore his plantar fascia - a thick connective tissue supporting the arc on the bottom of the foot - when he landed on the foot of San Mig guard Mark Barroca while attempting a layup late in the Mixers' win in Game Two on Sunday.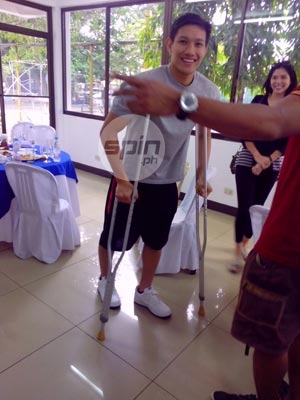 "Wala I can't play tomorrow. I feel so frustrated. Grabe panghihinayang ko," said the clutch-shooting guard when he showed up in crutches during Ginebra governor and PBA chairman Robert Non's birthday celebration on Tuesday afternoon in Pasig.
"I hurt my foot during the fouth quarter of the game. I played through it. Syempre adrenaline rush na yun noon pero after the game, dun ko na naramdaman," he said.
Cabagnot bared that he had been nursing an injury in the same area during the entire Governors Cup and merely aggravated it when he stepped on Barroca's foot after a layup.
Now he says he is still "50-50" as far as a return in Game Four is concerned.
"I can't really play tomorrow. Pero I hope to be back on Friday for Game Four. Pero just the same, 50-50 pa rin yun," he said.
"Matagal na ito. Na-worsen lang siya when I landed on the foot of Mark," Cabagnot added.
Cabagnot's injury added to the woes of Petron's backcourt which already had back-up guard Chico Lanete nursing a hamstring injury, leaving Denok Miranda as the only healthy ball handler.
Still, Cabagnot expects Miranda and the rest of the Boosters to step up in his absence.
"Knowing my teammates, I know they will play harder. They always do. I have no doubts about that," said Cabagnot.
Cabagnot's foot injury was so sore that his girlfriend, popular television host Ginger Conejero, had to drive to Non's birthday party.