[Here's the latest installment in our Where R They Now series]
NOT much is known about why Benny Cheng continues to be a beloved figure among Ginebra fans to this day. Yet this much is true: the hard-nosed, low-key fan-favorite remains a refreshing sight on a basketball court even as he's already approaching 50.
Cheng, who played for Ginebra, Gordon's Gin, Shell, Sta. Lucia and and Purefoods in a journeyman career, is part of the Filipino-Chinese Veterans Basketball Association (FCVBA) 40-above squad that is currently competing in the 25th Asean Veteran Basketball Tournament this week at the Chiang Kai Shek College Gym.
Retirement from pro basketball has been good to Cheng as not much has changed in his appearance, save for some added weight and some graying locks on his head.
The form on his jumper also looks fine, as he added 10 points, third in the team after former PBA MVP Kenneth Duremdes's 15 and Jack Santiago's 13 markers, respectively, as the Fil-Chinese squad beat ZAAP-Sports Thailand in a blowout, 107-62, on Monday.
ADVERTISEMENT - CONTINUE READING BELOW ↓
Yet solid as his game may be, Cheng said the he is no longer inclined to pursue a post-playing career life in the sport — not even in coaching.
"Naku, wala," said Cheng in a brief interview with SPIN.ph. "Mahirap mag-coach."
Many know Cheng from his stint as a role player to the star-studded Ginebra team of the 1990s, led by the likes of Marlou Aquino, Noli Locsin, and Bal David. But unknown to casual basketball fans, Cheng was also the star of the last Mapua team to nab AN NCAA championship.
In fact, the Cardinals went on to win back-to-back titles in 1990 and 1991 with Cheng as the top gun. Cheng was even named MVP during Mapua's second championship in the early 90s.
The 47-year-old Cheng now lives a relatively low-profile life, tending to a buy-and-sell furniture business with his wife. And unlike some of his contemporaries who've continued to be visible in basketball, the former Mapua standout chose to put all his focus on his family and his business, begging off from the stress and the rigors that come with the sport.
ADVERTISEMENT - CONTINUE READING BELOW ↓
"Kailangan tutok ka rin hindi katulad dati (nung naglalaro) na two hours ka lang, uwi ka na, tapos dala dala mo pa sa bahay. Mahirap," said Cheng.
"Kailangan seryoso ka rin na tututukan mo talaga [business mo], parang basketball din," he added.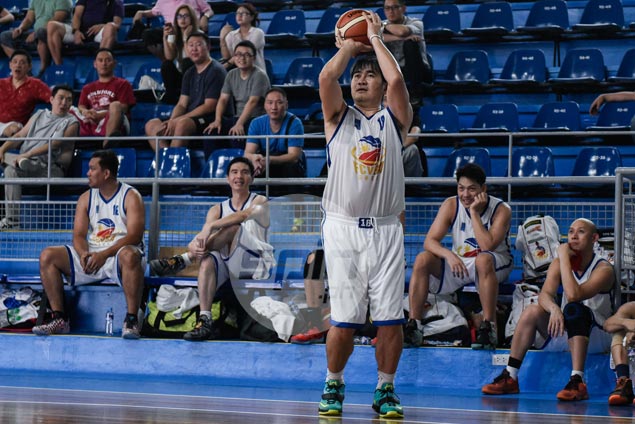 Still, Cheng said he plays basketball at times, especially when he is invited to play in leagues such as his stint with the FCVBA. To get himself in shape for leagues like the Asean Veteran tournament, Cheng said he attends practices of D-League side Tanduay.
ADVERTISEMENT - CONTINUE READING BELOW ↓
"Minsan minsan lang ako dito pero nakakasali ako sa mga 40, 50 years old sa ibang bansa, sumasali ako," he shared.
"Minsan kapag may liga, nakikilaro ako sa Tanduay. Since itong liga na 'to, tinawagan ako, nakikisama ako, papawis lang," Cheng added.
Despite being away from the limelight, Cheng said he is flattered with the adoration of Ginebra fans, but he remains fixed that he won't be swayed into joining the team in any form aside from being just a fan himself.
"Nakakatuwa na may nakakaalala pa. 'Yung suporta nila, nagpapasalamat ako," said Cheng.
PBA Updates