ANY basketball league opening, be it an inter-color tournament in the smallest barangay in the country, won't be complete without the bevy of muses that walk side by side with the team captains during the traditional parade.
The PBA being the biggest basketball league in the land, no less than four of the most beautiful women in this corner of the world graced its opening ceremonies on Sunday at the Big Dome. (For more pictures of the opening ceremonies, click here)
And as this story shows, these ladies are more than just pretty faces.

Cage Belle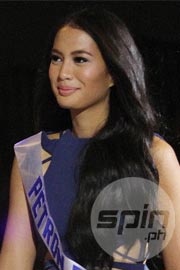 Belle Daza is the perfect example that sports and beauty go hand in hand. The lovely daughter of former Miss Universe Gloria Diaz is a certified sports junkie, having played varsity football for two years at La Salle and now trying her hand at the fast-growing sport of triathlon.
Continue reading below ↓
Recommended Videos
Her first love? Basketball, no less.
"Sports is my first love," said Belle, who also plays tennis with her mom during their free time. "Basketball is my first sport and I fell in love with it when I was eight."
No wonder the 'It girl' felt like she belonged when she joined the rest of the Petron Blaze Boosters during the opening rites.
"She plays every sport," shared cousin Georgina Wilson.
Georgina now a ka-Barangay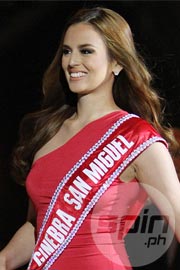 The statuesque model regularly works out and plays tennis whenever she has the time, but Georgina Wilson regrets not having tried basketball where her height and athleticism would have been put to good use.
"Yung height ko dapat basketball yung sport ko. I'm sporty so sayang lang," the 5-10 Fil-Brit beauty told Spin.ph.
So used to attracting attention wherever she goes, Wilson admits still getting the chills from the wild ovation when she joined the league's most popular team, Barangay Ginebra, during the opening rites.
"It's such an honor to be with the team that's so loved by the people," she said. "Loud talaga yung scream kanina sa team."
Striking a kinship with the Gin Kings, Georgina has vowed to be part of the 'barangay' which will be rooting for the team from hereon.
Play it again, Sam
Parading as the muse of Global Port is a walk in the park for Sam Pinto.
It's not Sam's first time to do it, having played the same role with Belle Daza and Georgina Wilson in 2010 for the San Miguel Beermen. Besides, she finds it a lot easier than acting in front of the camera.
"Being tonight's muse is easier than acting in front of the camera," Global Port Batang Pier first lady told Spin.ph.
It was a piece of cake, she swears, but that doesn't mean FHM's sexiest woman did not enjoy the experience.
"It was awesome and so much fun. It's different from the usual me being an artista."
Fourth time's a charm for Anne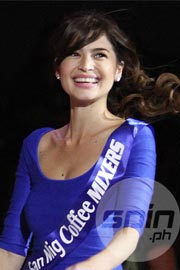 Anne is the first to admit that sports is not in her genes. And even if she wants to start getting into any form of sports activity now, the actress and TV host admits her busy schedule just won't allow it.
Still, Ms. Curtis remains a favorite not just among cage fans but also among teams. Her appearance as muse of the San Mig Coffee Mixers on Sunday was her fourth in the league, having played the part for Talk 'N Text in 2004 and for Barangay Ginebra in 2009 and 2010.
Needless to say, she enjoyed the experience like it was her first time.
"It was so much fun. The whole experience was a lot of fun and very exciting," she told Spin.ph.