BARANGAY Ginebra coach Tim Cone doesn't expect the same result in their lopsided elimination round game against Bay Area when the two teams square off again in the championship series of the PBA Commissioner's Cup finals.
The Gin Kings overwhelmed the Dragons, 111-93, last October 9, handing the foreign guest team their first defeat of the conference. A lot though has changed from that game, and Cone said it will be a different ballgame altogether in the finals.
For one, Andrew Nicholson played his first game in the PBA in that match against Barangay Ginebra. But the former NBA player has been on the roll since his return to the ballclub that his 28-point performance against Ginebra two months ago was actually his conference low.
"A lot of things going on at that time that people remember. They just had to change imports from Powell to their import now Nicholson. It was his first game and he came out and ripped us for 26 points in the first half. But it was his first game. They had to adjust to him. He hadn't been used to playing full 48 minutes.
ADVERTISEMENT - CONTINUE READING BELOW ↓
"There's a lot of things that went into that basketball game. And we are very, very aware of that. We know that we caught them on a good night. We played extremely well that night. We knocked down shots that we don't always knock down.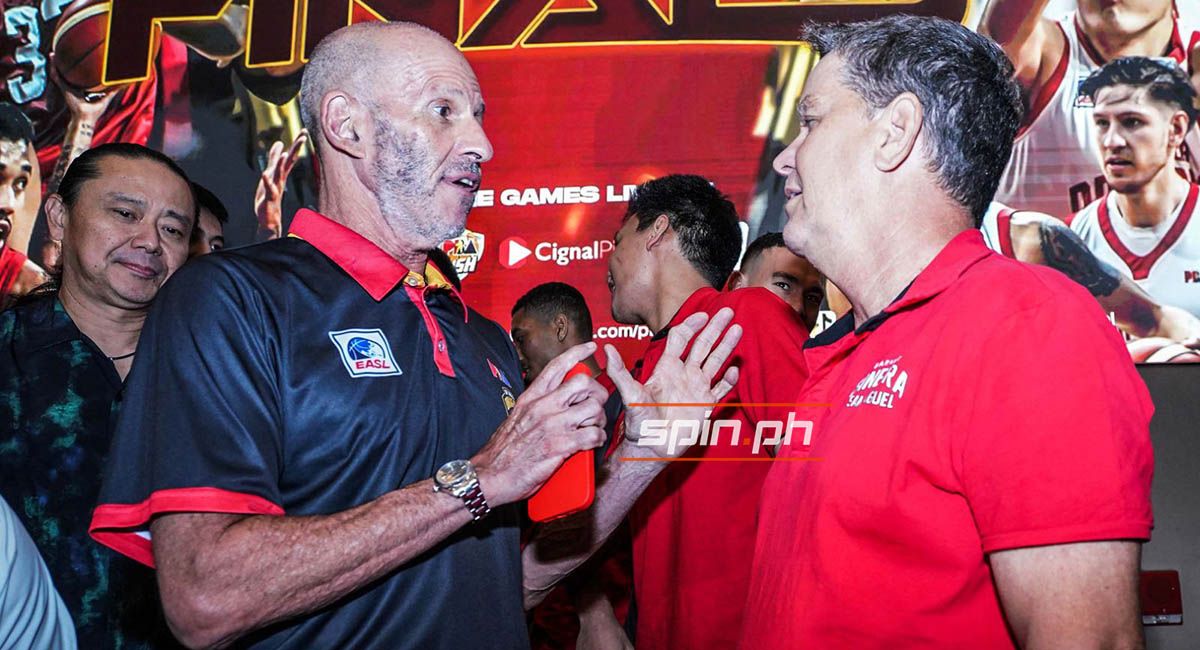 "Basically, at this point, in our minds, we throw that game completely out of the window. Don't even think about that game," said Cone.
Cone said the San Miguel series was a reflection of how strong Bay Area is as Nicholson as well as their locals Glen Yang, Kobey Lam, Hayden Blankley, Zhu Sowei, and Liu Chuanxing performed at a high level against the powerhouse Beermen unit.
"We've seen them against San Miguel. We've seen them throughout the conference. We know we think we know how good they can be. And honestly, that's scary. But for one night, we played extremely well. It would be nice if we can do that every night but we know we're not going to. It's going to be a battle," said Cone.
Cone was able to describe the key players of the Dragons well including Yang, who evoked memories of a member of the last guest team, foreign or local, to win a title in the PBA.
"What I like about their team is that their line-up is so well-constructed. They've got Glen Yang at point guard… He reminds me so much of Hector Calma [member of the 1985 NCC team] in terms of directing. He is not going to go out there and look for his own stuff. He directs the team. He handles the team."
ADVERTISEMENT - CONTINUE READING BELOW ↓
"They have great wings in Kobey Lam and Hayden Blankley. They can shoot. They can put the ball on the floor. They can run the floor."
"Zhu is massively versatile at 6-9, long."
"Then, they've got the import of course. He has been absolutely dominant. We were looking at his numbers… He is averaging 38 points a game in the last series, he shot 61 percent from two-point range, and 51 percent from three-point range. I mean, who does that? That's massively impressive."
"And then, you have the big guy. He can dominate. He gets to his areas, he gets into his comfort zone, he can dominate."
"The line-up is really well-constructed. They have weapons in every position. And that's what makes them so tough," Cone said.
Even with their strengths, Cone said Bay Area remains beatable as Ginebra tries to use its depth in the best-of-seven finals.
"I think the thing that we'll going to try to beat them is our depth. Our line-up is nine, 10-deep. Even 11. Over seven games, hopefully, we can beat them with our depth. But they are big, well-constructed, and we know they'll be extremely tough," said Cone.
ADVERTISEMENT - CONTINUE READING BELOW ↓
Get more of the latest sports news & updates on SPIN.ph