CHICAGO - The blue FMR bus began to snake out of the Philsports Arena in Bocaue, Bulacan around 10:15 pm last night.
There were 26 passengers inside, each one of them nursing varying degrees of sadness. You can hear a pin drop inside the giant mechanical beast.
While Ginebra celebrated its' 15th championship with the roaring sounds of victory, the deafening silence around the Bay Area Dragons offered a peek of what was on the other side of the Commissioner's Cup Game 7 melodrama.
Blunt force grief.
"Ginebra played a great game. But I'm still very proud of our team," Bay Area manager Maya Montecillo told me over the phone.
It was impossible to disagree.
Wielding the defensive ferocity that has been their bread and butter for years, the Gin Kings punched the Dragons' mouths right after the opening tip and jumped to an early 22-12 lead on the way to their 114-99 coronation.
SUSPENSE-FREE GAME 7
This time, in front of a partisan, record-breaking crowd of 54,589 at the Philippine Arena, the Gins didn't have to summon their Never Say Die spirit.
Not when Justin Brownlee had another masterful effort of 32 points, eight rebounds and two assists.
Not when Jamie Malonzo turned Game 7 into his personal coming-out party where he served 22 points, 17 rebounds and two blocks.
Not when twin bigs - Christian Stanhardinger and Japeth Aguilar - combined for 26 points and 12 rebounds while making the paint a no-entry zone for the Dragons.
ADVERTISEMENT - CONTINUE READING BELOW ↓
All of that, plus the greatness of Tim Cone and the inspiration of the wildly supportive Ginebra faithful, became a perfect storm that swept Bay Area out of the building.
In defeat though, Bay Area stayed true to its own mantra of DNS: Dragons Never Surrender.
But the team, made up mostly of young, less experienced stars, came up short against a pack of grizzled, battle-tested Gin Kings who were led by a super import that hadn't lost in six finals appearances.
KOBEY LAM WAS HELD TO 13 POINTS ON 5-OF-16 SHOOTING FROM THE FIELD AND 1-FOR-8 FROM LONG DISTANCE.
Glenn Yang wasn't his normal efficient self, coughing only 10 points and four assists.
And even though he collected 29 points, import Mike Powell was harassed into missing 13 of his 22 shots, including a 4-of-11 fare from 3.
Just like that, puff, the fiery Dragons came and went.
But their legacy lives on.
Bay Area earned the respect of their worthy opponents and the admiration of PBA fans whose appetite for watching the games live back in the arenas was rejuvenated by the Dragons' capacity for competitive fire.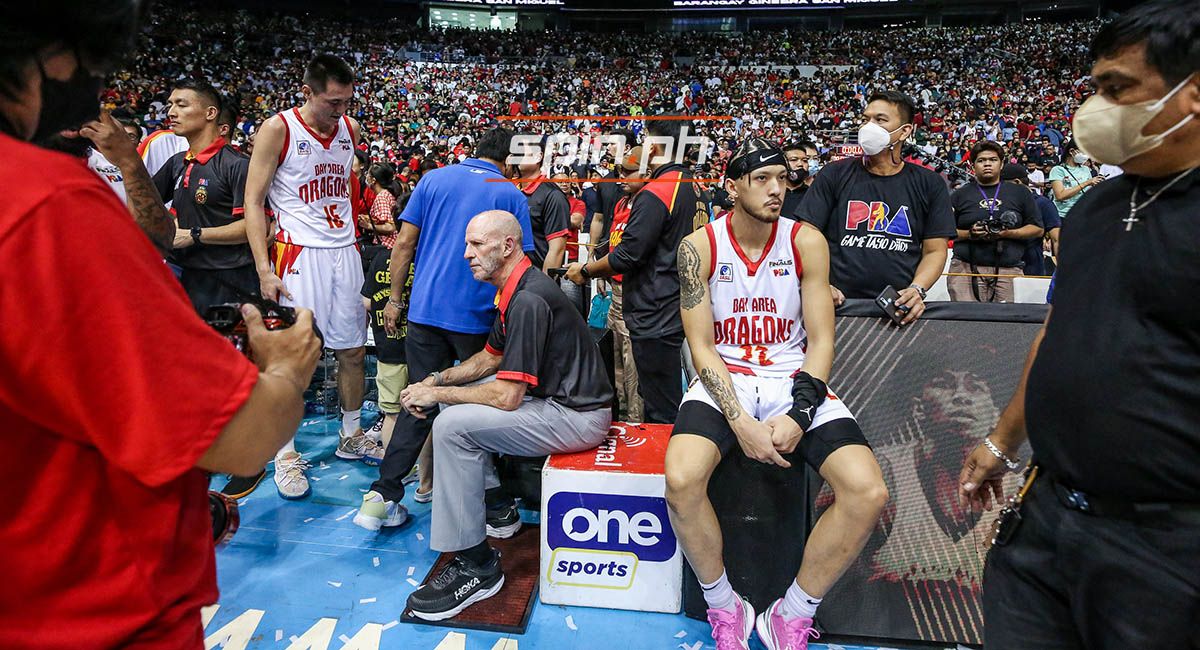 To shake off the cobwebs, coach Brian Goorjian mandated a full week off from basketball for his players and staff.
After that they will reassemble and begin training for the EASL Champions Week in Utsunomiya and Okinawa, Japan this March 1 to 5.
Negotiations are still ongoing for Bay Area to return as a guest team.
I hope they come back.
Exceedingly profitable, with ticket sales at all playing venues printing money like a mint, the Dragons were a happy pill the PBA desperately needed.