SOME of the biggest names in Philippine basketball gathered on Monday night to celebrate the 92nd birthday of legendary coach Virgilio 'Baby' Dalupan on the launch of a book about him.
Dozens of his former players led by Atoy Co, Bogs Adornado, Philip Cezar, Freddie Hubalde, Alvin Patrimonio, and PBA commissioner Chito Narvasa, as well as Dante Silverio and Robert Jaworski of Crispa's main rival Toyota attended the event at the Ateneo campus.
His former teams from the college ranks in University of the East and Ateneo and in the PBA in Crispa, Great Taste, and Purefoods were also represented on a night honoring the man called 'The Maestro.'
At one point during the program, Dalupan shared a table with Tim Cone, who broke his record for most number of championships won in the PBA.
At the end of the ceremony, Dalupan, humble as ever, thanked everyone who came despite the heavy rains caused by Typhoon Lando.
"I just want to thank all of my players and colleagues," Dalupan, who won 15 PBA championships and a couple more in the college ranks, said in a brief speech.
Dalupan's youngest daughter Cecille shared his father was at first hesitant to have the book written about him, entitled "Virgilio 'Baby' Dalupan: The Maestro of Philippine Basketball" as he was unsure whether there will be people interested to read about his life.
Continue reading below ↓
Recommended Videos
"The last person who wanted this book was the Maestro himself… After many many months, he actually stopped at one point and said, 'Meron bang interesado dito?'"
"I look around this room and I think I know the resounding answer to that," said the younger Dalupan.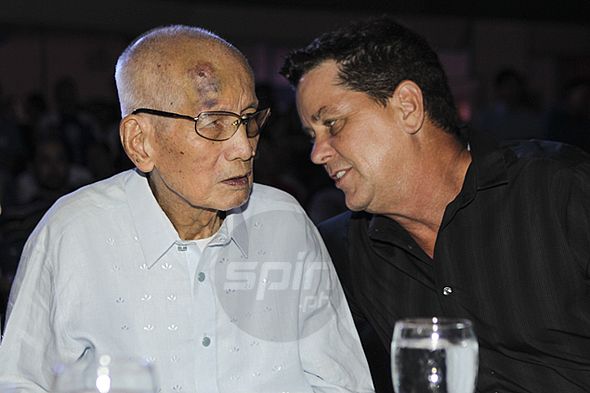 The book delved into Dalupan's coaching career, from his early days coaching Ateneo in the NCAA to the PBA days with Crispa until his retirement with Purefoods. It also offered a few tidbits about his family.
The book is now available at Ateneo. Arrangements are being made to make it available at UE and in National Bookstore branches.