BARANGAY Ginebra gave back to its fans after its PBA Governors' Cup conquest by holding a thanksgiving party on Sunday noon at The Arena in San Juan.
Over 3,000 fans, some even reportedly arriving as early as the wee hours of the day from the provinces, trooped the venue and received a free shirt and came out with a lunch meal.
They watched the replay of Game Six of the Finals and went wild as if it was a live game after seeing Justin Brownlee hit the game-winner that will go down as one of the biggest shots in playoffs history.
The Gin Kings players were then introduced one by one, with Mark Caguioa, Jayjay Helterbrand, and Brownlee called last, before the turn of the coaching staff led by Tim Cone.
After giving their messages to their fans, the Ginebra stars obliged to their photo and autograph requests, with Helterbrand even giving his black Adidas cap to a fan who requested it.
ADVERTISEMENT - CONTINUE READING BELOW ↓
"That was my favorite hat," Helterbrand said. "But you know, it's okay. It's a small sacrifice for them just being out there at 7 o'clock in the morning, waiting in that line just to get a glimpse of their favorite players."
"It's just a small token of my appreciation for them," he added.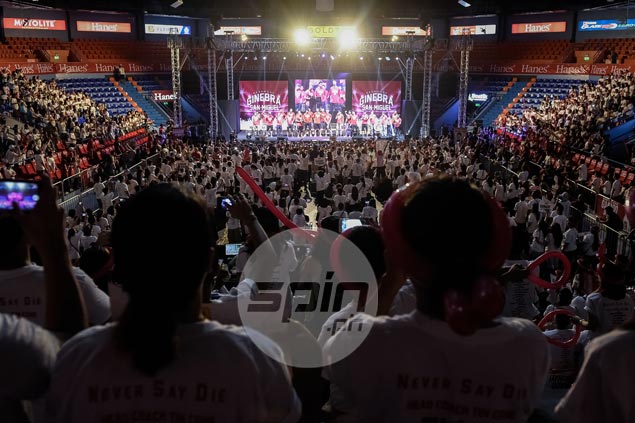 ADVERTISEMENT - CONTINUE READING BELOW ↓
After the fan interaction, Marge Cadiz took the stage and sang her latest version of Gary Granada's Sana Manalo ang Ginebra, before Banda ni Kleggy performed for a set to cap off the fans day that Ginebra officials said they would've still held even if the team lost in the finals against Meralco.
PBA Updates