The first time Alapag came home to the Philippines was when he was one, 'so that doesn't count,' he says; the second time as a senior high school player recruited to play for a Fil-Am team carrying the colors of Blu Detergent with Asi Taulava and Rob Duat in the 1997 PBL Vis-Min Cup; and the third time in 2001 shortly after his stint in the US NCAA Division II when he was eyed by Jacobs to be the only non-PBA player in the Philippine team bound for the Busan Asiad.
Alapag, as I recall from my conversations with Jacobs, came in highly recommended by Paul Howard, an old friend and scout who Jacobs completely trusted. Howard, Alapag says now, was one of the coaches/ scouts who had seen him play at Cal State San Bernardino. "We really wanted to give him a serious look then," says Jong Uichico, a longtime Jacobs understudy who, ironically, became Alapag's coach at Talk 'N Text and with Gilas Pilipinas 13 years down the road.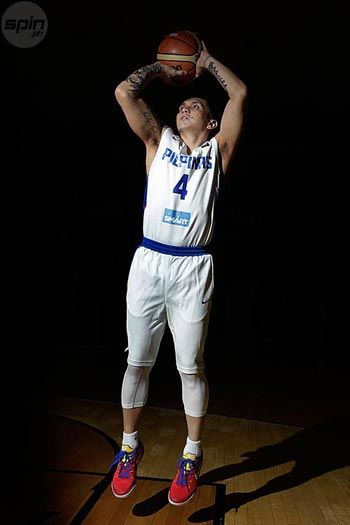 The kid was naturally excited to pursue a career in his parents' native land and learn more about where he came from, and so was Jacobs in a telephone conversation the two had less than a week before he flew in. "I spoke to Coach Ron the day he suffered a stroke," Alapag recalls. "He called me and said, 'We're excited to have you and I can't wait to see you have a taste of Philippine basketball.'"
 He didn't learn about the massive stroke that left Jacobs in a coma until he arrived in Manila. The kid was naturally at a loss. "I was worried, (Jacobs) was my main contact. But I also felt so bad, knowing how much he meant to Philippine basketball," Alapag tells Spin.ph.
His tryouts nonetheless proceeded as planned under Uichico, who took over the national coaching job from Jacobs. But bad breaks kept following him around. Just four, five minutes into his debut for the national team, in an exhibition game in Bataan against a Purefoods team reinforced by imports, Alapag broke his hand.
Alapag remembers every single detail of that fateful event to this day.
"As quick as it started was as quick as it ended. We were playing Purefoods, they had Derrick Brown and Leonard White. White went and set a down screen, and I tried to get over the screen and my hand got caught in his jersey. I ran one way and he ran the other way. Real quick, felt it right away," he says.
He was devastated, not only because the injury meant missing out on a backcourt spot in the Busan-bound team (which eventually went to Olsen Racela, Boyet Fernandez and combo guard Noy Castillo) but more because he felt he let a lot of people down, Jacobs most of all.
"It was a disaster. For that to be my first experience in the Philippines, I was embarrassed, just because of what I had gone through to get to that point. I remember Coach Jong talking to us (before that game) and he named the starters and it was Eric (Menk) and Dondon (Hontiveros) and Jimmy. Here I was, waited so long to play my first game, it lasted four to five minutes and I was gone," he says.
"Not only was I embarrassed but I felt a lot of people looked at it like, 'See, he was a fluke. It was all hype.'"
Just as quickly, Alapag was on a plane bound for the US, broken but unbowed.