FRIDAY night's turmoil near the end of the Petron Blaze-Alaska game in the PBA Commissioner's Cup at the Smart Araneta Coliseum has virtually the entire Filipino basketball community abuzz on the incident where Boosters import Renaldo Balkman confronted each of the three referees, shoved every teammate and coach that tried to pacify him as he raged on about a non-call while he went for a lay-up.
But the incident that got everyone's ire was his one-handed choke of teammate Arwind Santos after the
latter retaliated to a hard Balkman shove with a shove of his own.
While Balkman has already apologized to the fans, league and teammates for the incident, some people are wondering if this was the first time teammates went at each other in a PBA game.
Following a lead we got from veteran sportswriter and PBA radio coverage panellist Barry Pascua, we did a little research and found out that this is not the first time in the league that teammates fought each other in a game. At least, Balkman's case could be a first in the league over the last 28 years.
Pascua recalls a game wherein Magnolia guard Rudy Distrito nearly went at it against teammate Joey Loyzaga after the acknowledged bad boy had initially gone after Great Taste forward Chito Loyzaga and the Loyzagas' father Caloy, himself a former player and Philippine great at that.
Pascua remembers Biboy Ravanes, then playing for Magnolia, being involved in that melee too.
Curiously, Ravanes, now an assistant coach at Petron Blaze, was among those who tried to pacify Balkman on Friday night but was dismissed and shooed away by the American-Puerto Rican.
Ravanes vividly remembers that Great Taste-Magnolia game as if it happened just yesterday.
"Ako talaga ang binigyan ng hard foul ni Chito noon. I think mga 1985 yun at sa ULTRA nangyari," says Ravanes.
A quick look at the 1985-86 PBA annual revealed that was the time deputy PBA commissioner Tommy Manotoc had first implemented the "no harm, no foul" rule under then Commissioner Mariano Yenko.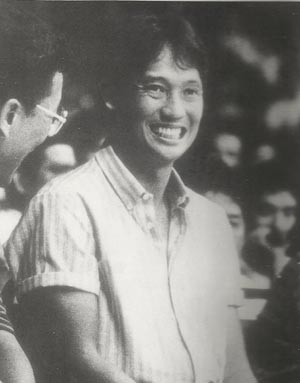 "Ayun, hindi nagustuhan ni Dong (Distrito's nickname) yung ginawa ni Chito sa akin kaya kinompronta nya
si Chito. Tapos nung nagkakagulo na sila sa may bench namin, binatukan ata ni Caloy si Dong galing sa likod
ng bench namin. Nung hinahawi ni Dong yung mga sumusuntok o baka umaawat sa kanya tinamaan niya
ata si Caloy kaya yun na nagalit si Joey. Sila naman ni Dong ang nag-away," relates Ravanes.
Ravanes then remembers a shot being fired in the middle of all the commotion.
"Di ako sure pero bodyguard ata ni Manotoc yung nagpaputok," he said.
Manotoc doesn't remember the incident and denies it could not have been his bodyguard.
"I wasn't in all the games that time and if I were I was inside the luxury boxes sa taas so it could not have
been my bodyguard," he explains, adding it was probably a security personnel but insists he couldn't
remember any shots being fired during a game that time.
But what Manotoc knows a lot about was his "no harm, no foul" innovation.
"I felt the fifth and sixth fouls especially of imports and the superstar locals should be very clear. Not touch fouls. That was one of the guidelines of the 'no harm, no foul' rule which I initiated. You don't pay these superstars and imports that much to be sitting on the sidelines. People go to the games or watch on TV to see them play ... I think its being done naman today in the PBA," he said.