IT was a night of nostalgia and reminiscing the good old days of Barangay Ginebra.
At the same time, it turned out to be an occasion of pondering on the 'what ifs' for a young, talented Ginebra core that was inexplicably dismantled at a time when it was just about to reach its peak.
Former Ginebra players recalled memories both good and bad on a cold Wednesday night during a rare get-together to welcome back former coach Rino Salazar, who is currently on a three-week vacation from the US along with wife Rose.
Talk abound about Ginebra's 1997 championship, the upset of top seed Talk 'N Text during the 1999 All-Filipino Cup playoffs, all the way to how 6-foot-10 mammoth June Mar Fajardo would fare against Ginebra's bruising frontcourt of Marlou Aquino, Nolic Locsin, and Wilmer Ong.
But when the conversation shifted to why the nucleus of the team had to be broken up despite of its potential to win more championships more than two decades ago, everybody was left dumbfounded, including Salazar himself.
"Simply put, we're just left puzzled," Locsin, the most vocal of the group, shared to SPIN.ph. "Of course we respect the decision of management, pero magtataka ka rin, di ba? Promising yung team and nakatikim na ng championship, and then boom!"
Continue reading below ↓
Recommended Videos
[See Look who's here: Former Ginebra coach Rino Salazar, Isaac meet up]
Everyone was unanimous in saying the beginning of the end for the team came in 1998 when Robert Jaworski, the acknowledged father of the league's most popular ballclub and a senator by then, resigned as Ginebra playing-coach and orphaned a franchise that was just a year removed from winning the Commissioner's Cup title.
Soon after, Vince Hizon, one of Ginebra's top outside gunners along with Pido Jarencio, would also leave the team followed by Jarencio and Jayvee Gayoso.
After playing as deputy to Jaworski for a long time, Salazar took over the team that still had the trio of Aquino, Locsin, and Bal David, along with Ong, and Benny Cheng.
Ginebra would make noise during the 1999 All-Filipino Cup when it became the first no. 8 seed team to knock off the top seed in Mobiline during the playoffs, with David scoring the game-winning basket at the buzzer, 82-81, of their epic do-or-die encounter.
The image of a tearful rookie Asi Taulava slumped on the Phone Pals bench at the end of the thrilling match will forever be linked to the game considered as one of the greatest upsets in PBA history.
"Sa kanyang play 'yun. Siya nag-design nun," said David, pointing to Salazar.
WATCH the video on YouTube:
By 2000, only David and Ong would be left from the team that won the championship three years ago. Locsin was traded to Pop Cola for Vergel Meneses, Aquino found himself shipped to his amateur ballclub Sta. Lucia in exchange for Jun Limpot, so did Cheng who also ended up at Sta. Lucia.
Salazar likewise quit his job as Ginebra coach as his family migrated to the US for good, paving the way for assistant coach Allan Caidic to inherit the post.
"Kaming dalawa na lang ni Wilmer ang naiwan dun," recalled David, now 44. "Inabot pa namin si Mark (Caguioa) and JayJay (Helterbrand)."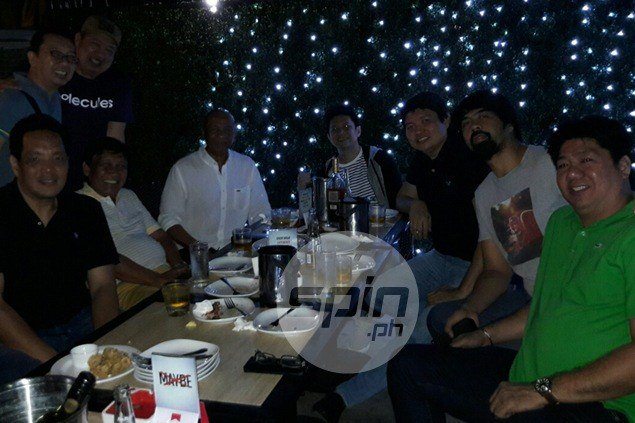 David, the former University of Santo Tomas star, would be the 'Last of the Mohicans' from the Jaworski era that would don a Ginebra jersey as Ong was traded to Sta. Lucia in 2003. He retired as a King in 2005.
"Hindi na ako naglaro sa ibang team," said David. "Kaya Ginebra player ako, through and through."
Locsin believed that same Ginebra core was good for a couple more championships or at least be competitive enough to make the playoffs had it stayed together even after the departure of the Big J.
"We're still peaking at the time and may cohesion na kami," he stressed. "Pero ang sa amin nga, we respect yung desisyon ng management."
Goodbyes were said, and warm hugs were exchanged when it was time to call it a night. Salazar and wife Rose, who also had as guests during the reunion close friends Cris Calilan (a former Ginebra deputy), former PBA players Bobby Jose and Alvin Teng, along with funny man and Ginebra supporter Jimmy Santos, are set to fly back to Las Vegas by next week.
But as everyone headed for home, there's a lingering question that still begs for an answer.