BAL David was supposed to wear jersey No. 11 when he first played for Barangay Ginebra in 1996, the number being the same one he used during his college days with University of Santo Tomas.
Unfortunately, Jayvee Gayoso already had it back then.
"Siyempre, seniority kaya I have to give it up," recalled the 44-year-old point guard.
So he did the next best thing. From 11, he settled for the No. 1 jersey which became identified with 'The Flash.'
"Tsaka idol ko rin kasi dati si Penny Hardaway kaya pinili ko na rin yung No.1," said David.
Two decades later, David never imagined his No. 1 will be made as part of Ganado Classics jersey promo launched by Ginebra San Miguel Inc. in celebration of 30 years of 'Never Say Die Spirit.'
David's jersey joins those of the great Robert Jaworski (No. 7), Mark Caguioa (No. 47), and Scottie Thompson (No. 6), along with the Never Say Die jersey edition, in the line collectible uniforms officially made available to the market by GSMI on Wednesday night.
"It's an honor na napili nila yung jersey No. 1 ko because I believe marami rin naman deserving na players sa akin," said David during the event launch at the PBA Café.
Continue reading below ↓
Recommended Videos
[See Ginebra San Miguel never-say-die spirit lives in these three ganado hardcourt heroes]
David, Thompson, and Caguioa attended the celebration and were joined by Ginebra officials led by Ginebra San Miguel brand manager Paolo Tupaz.
"It definitely brings back a lot of memories seeing my jersey here," Caguioa said.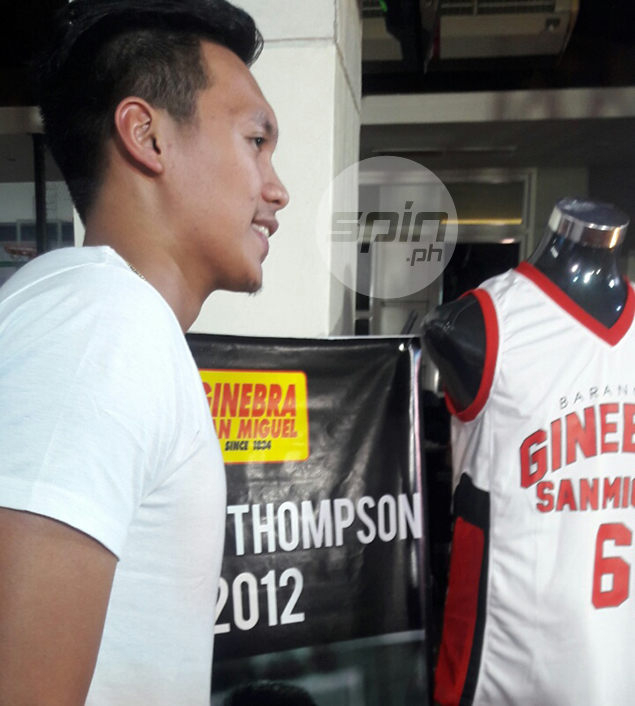 Like David, Thompson was just as surprised to be lined up along Ginebra legends such as Caguioa and Jaworski.
"Nagulat din ako siyempre dahil bago pa lang naman ako sa Ginebra. Kaya nagpapasalamat ako kay God at siyempre sa management ng Ginebra sa malaking pagtitiwala na binigay nila sa akin," said the sophomore guard from Perpetual Help University.
Jaworski is currently vacationing with his family in California but sent a video message addressed to Ginebra officials and die-hard fans.
"Fans can now relive the Ginebra San Miguel basketball team's historic moments. These jerseys are representations of the notable players from the different Ginebra eras," said Tupaz.
"From the birth of never-say-die spirit through 'Living Legend' Robert Jaworski to the new generation of Gin Kings that continued the never-say-die legacy," he added.
To avail of the jerseys, fans need only to buy any GSMI product.
Every five seals of Ginebra San Miguel or Vino Kulafu or any three caps of GSM Blue, GSM Blue Flavors, GSM Premium Gin and Primera Light Brandy in order to buy a shirt for just P100 in supermarkets and convenience store outlets nationwide.