HE reigned as the country's most dominant coach long before the digital age, yet his passing has triggered a shower of tributes on Twitter, Facebook and other social media sites.
Players, coaches, basketball personalities, and fans whose lives were touched one way or the other by the man known as 'The Maestro' paid tribute to Virgilio 'Baby' Dalupan, a day after a man generally considered as the greatest Filipino coach of all-time died at the age of 92.
"I'm so heartbroken. We lost a truly good man and the greatest coach. I will miss him terribly," Ginebra mentor Tim Cone, the only coach who has won more championships than Dalupan, posted on his Twitter account @manilacone.
Cone has been vocal about Dalupan being his idol as far as coaching is concerned. Two years ago, he surpassed the former Crispa and Great Taste coach as the most accomplished in PBA history when he won his 16th title with San Mig Coffee during the 2014 Philippine Cup, a record he further prolonged by winning two more championships to make it 18 overall.
ADVERTISEMENT - CONTINUE READING BELOW ↓
"What I will remember about Coach Baby is how far ahead of his time he was, and what a wonderful father he was to his daughters," added Cone, who ended it by using the hashtag #GOAT.



Former Gilas Pilipinas coach Chot Reyes also paid respect to Dalupan, who he referred to as an 'inspiration, mentor, friend' on his account @coachot.
"What a sad day for Phil basketball," said Reyes, owner of the most number of Coach of the Year honors with five. The award, incidentally, was named by the PBA Press Corps after Dalupan after its inception in 1993.
ADVERTISEMENT - CONTINUE READING BELOW ↓

PBA commissioner Chito Narvasa referred to Dalupan as a 'great Philippine basketball hero, my coach, and mentor.'
Narvasa played under Dalupan with the Ateneo Blue Eagles and won an NCAA men's championship.
"All throughout his career, he conducted himself with integrity, dignity, class, decency, and respect for others. Yet in spite of all his achievements and recognitions, the man remained incredibly humble," said Narvasa in his message in the league's official Twitter account @pbaconnect.
ADVERTISEMENT - CONTINUE READING BELOW ↓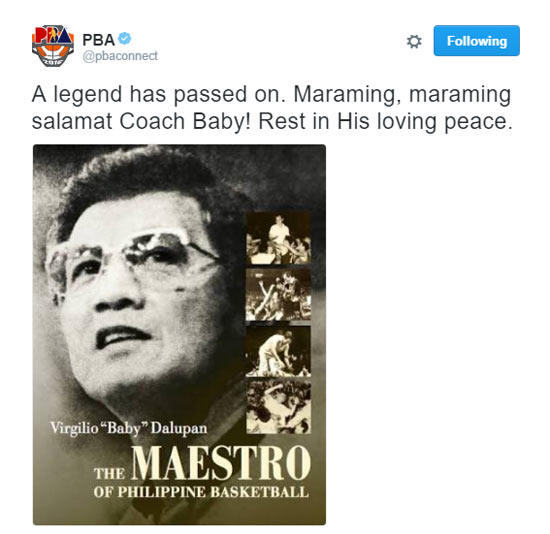 "He raised the prestige of a basketball coach so high that he inspired many others to follow in his footsteps."
Below are some of the social media tributes given to Dalupan:

ADVERTISEMENT - CONTINUE READING BELOW ↓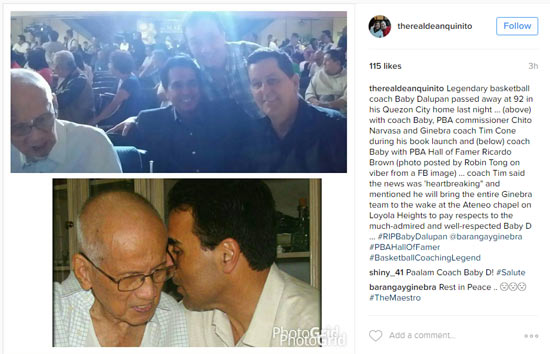 ADVERTISEMENT - CONTINUE READING BELOW ↓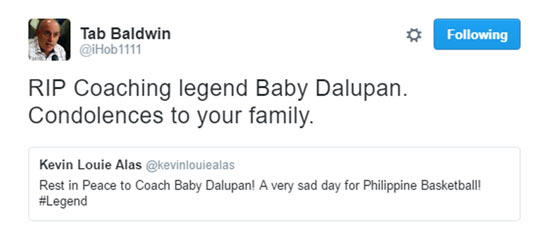 ADVERTISEMENT - CONTINUE READING BELOW ↓

We lost the greatest coach of Philippine basketball today.. Maraming salamat po sa lahat na… https://t.co/lOgOlOacq0

— James Carlos Yap (@jcy18) August 18, 2016