MARC Pingris is not the type of player who would let a fractured finger get in the way of his job.
The forward was his usual hardworking self on Wednesday night, capping another double-double effort with the five free throws that sealed B-Meg's 88-83 victory over Meralco in  the PBA Governors' Cup at the Smart-Araneta Coliseum.
Bucking a fractured finger in his non-shooting left hand, Pingris finished with 10 points and 11 boards to help the Llamados improve to 3-1 and gain a share of second place.
"Those were big free throws," Llamados coach Tim Cone said. "We'll take that one air ball [Pingris shot] because he made the rest.
"He's having a hard time gripping the ball, doesn't get rebounds like he's used to. But his effort is there every night, doing the dirty work. He's priceless."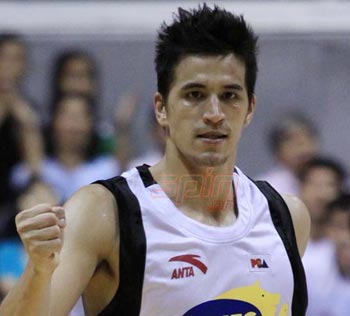 Pingris' five free throws allowed the Llamados to break free from an 83-all deadlock.
But Cone was not entirely happy with his team's play.
"I'm happy we won, but I'm not happy about our performance," Cone said.
Despite an awful shooting night from Meralco import Champ Oguchi, who went 0-for-10 from downtown and finished with only 12 points, the Llamados had a hard time disposing of the Bolts.
 "Still, our guys hung in there and gave themselves a chance to win down the stretch," said Cone, whose squad recorded a season-high 12 blocks, including three apiece from James Yap and Rafi Reavis.
After the dismal performance, Oguchi could be on the way out and Meralco is looking at former Atlanta Hawk Mario West as a replacement.
His B-Meg counterpart, Marcus Blakely, had another solid all-around game. He finished with 31 points, seven boards, five assists, and four steals. Yap added 19 points.
Macmac Cardona bounced back from a two-point outing to score 27 points, but could not save his squad from losing its third game against a lone win.