WHAT can be a better bonus after winning a big game in the PBA Governors Cup Finals than a visit to the locker room by the NBA champion coach?
"He did enjoy the game," said Tim Cone, the Llamados coach who got the surprise of his life when the Miami Heat's Fil-American mentor, Erik Spoelstra, dropped by the B-Meg locker room shortly after its 91-81 win in Game 5 of the title series at the Araneta Coliseum on Wednesday night.
"We didn't talk about the game that much, but I know for sure he did enjoy watching. He's a champion coach, a natural gym rat during his time," said Cone of the encounter.
"It was just a casual hi and hello. I'm star-strucked. Then the players started to shake hands with him and posing for pictures."
B-Meg guard Jonas Villanueva did not let the rare opportunity pass without shooting a souvenir photo with his phone. He later posted the prized shot on Twitter.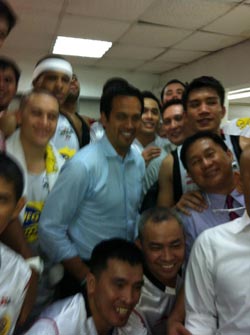 Spoelstra arrived on Wednesday for a five-day visit to the country – his fourth consecutive trip here – as part of his NBA Trophy Tour in Manila.
The first Asian coach to win a championship in all of the four major leagues in North America, Spoelstra was given a plaque of appreciation by the PBA during halftime. He went on and watched the Finals in its entirety, enjoying a courtside view of the highly-physical action between the Llamados and Elasto Painters.
After emerging from the B-Meg dugout, Spoelstra, whose mother, Elisa Celino is from San Pablo, Laguna, briefly chatted with Petron team consultant Rajko Toroman at the hallway of the Big Dome, before he was led to a waiting service van by a phalanx of security men.
He also didn't answer questions from reporters who ambushed him on his way out.
Asked if Spoelstra was a B-Meg fan, Cone said he's not certain.
"Well, I'm just hoping he's a Tim Cone fan," said the American coach, chuckling.