"THAT shot was for you!"
That, among other thrash talk and actions San Miguel Beer import Arizona Reid directed at the bench of his former team Rain or Shine, triggered the verbal tussle with coach Yeng Guiao that marred the Beermen's 129-114 win in a PBA Commissioner's Cup game on Friday night.
Guiao, tossed out of the game on two techicals, claimed that during the whole duration of the match, Reid was issuing below-the-belt statements riddled with profane words against his former team.
"Everytime makaka-shoot siya nung time na lumalamang sila, he made sure he'd pass by the bench and he made some actuations," said Guiao.
"Of course he's entitled to do that, wala namang illegal para sa kanya. But I thought, they were winning the game and he's adding insult already to a lost cause sa part namin. Kahit naman siguro sino mapipikon," he added.
Guiao also recalled one 'irritating' statement from Reid shortly after he made a crucial three-pointer following a mad scramble for the ball.
"After he made a three pointer, sinabihan niya kami, ako, ng, 'That's what you get for not getting me.' Ano yun?'" the veteran Rain or Shine coach claimed.
Guiao said the Rain or Shine team didn't deserve such rude treatment from Reid for one simple reason.
Continue reading below ↓
Recommended Videos
"Knowing fully well his background, sa amin siya nanggaling, wala naman siya sa San Miguel kung hindi namin binigyan ng release," he said. "We could have kept him and not used him.
"We had control over his opportunities to play here. We did not expect na kumbaga, yayabangan pa kami ng ganun. Sa ating mga Pilipino, kaunting respeto na lang sana 'yun."
[See Reid has last laugh in shouting match with Guiao as SMB wins by a mile]
For his part, Reid denied saying any cuss words against Guiao or his former team, insisting he was merely thrash-talking.
"Huh? No, listen I don't play basketball personal. Nothing was said toward him, I've done nothing toward him. I didn't say anything to him," he said.
"It's not a problem for me. It's in the heat of the game, I have no problem with nobody over there. Just my jersey changed. It's nothing personal to me ... It's part of the game."
Here's a video of Guiao nudging Reid in the sidelines, plus Guiao interview:
The 6-5 import said he doesn't hold any grudges after Rain or Shine decided not to sign him for the tournament.
"Nothing personal, when I am inside these lines, I am trying to win games. I try to be tough for my team, we're struggling," he added.
However, Reid later admitted: "Whenever he says something bad to me, I say something back. It is what it is."
Reid claimed Rain or Shine counterpart Wayne Chism was doing the same to the San Miguel bench.
"Chism said a lot of stuff to my coaches but no one made a deal out of it. It's part of the game," he said.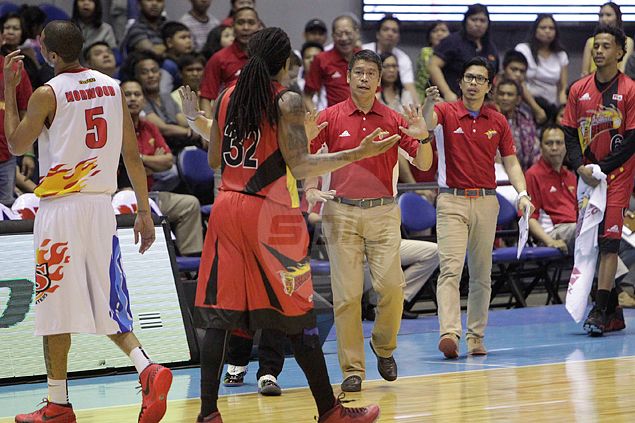 Asked if he is not yet used to the behavior of Guiao, who is notorious for his side comments and tough behavior in the sidelines, Reid said: "I'm used to his attitude, that's why I didn't get out of my character because I know how coach Yeng is. That's how he builds his reputation. He is a tough coach, he's an aggressive person."
So who started it?
Reid replied: "It doesn't matter who started it. It's over with, i'm done with it. I'll see him around."
Still, Reid claimed his respect for Guiao remained despite the spat.
"I have the utmost respect for him, he's a great guy. If it's not for him I wouldn't be here. It's not an issue out here," said the former High Point University standout.
Asked why he gave Reid a nudge during an inbound play infront of the Rain or Shine bench, Guiao responded: 'Dumaan s'ya sa lane ko, so he was fishing."
Guiao did not hide his anger towards his former import but insisted that everything will end after the game.
"Sa ngayon galit ako sa kanya, pero lilipas rin to," said the six-time champion coach.