TOBYS Sports president Toby Claudio defended the concept of his chain of sports apparel store's bold ad campaign, saying the revealing pictures of athletic stars James Yap, Michele Gumabao and Neil Etheridge were meant to inspire more than anything else.
The pictures, which showed former De La Salle volleyball star Gumabao and Azkals' first-choice 'keeper Etheridge naked with only splashes of water covering their private parts as well as a half-naked James, have caused a splash on the web when they were released in time for the sports concept store's 35th anniversary.
However, sportsman Claudio said the posters which now grace his stores were meant to highlight the athletes' 'body of work' to hopefully serve as an inspiration to like-minded patrons.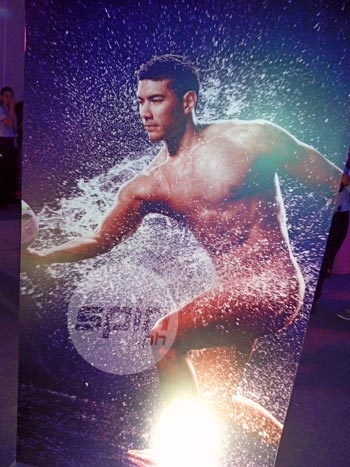 "We wanted to show them in an inspiring pose. We know how athletes work very hard to achieve what they achieved … Yun lang naman ang purpose namin," said the known sportsman.
"If you are going to look at them, they are in perfect shape. They represent much the look of a healthy, strong and ideal body," added the triathlete.
"We're showing off the hard work and commitment of these athletes to get to where they are now."
Claudio bared that the concept was inspired by the Greeks in the old Olympics, wherein the champions are glorified. But unlike the olden Greece where athletes were reproduced with totally nude carvings and statues, Claudio insisted they came up with something more subtle.
"We were careful to make sure that obviously whoever made the shot were careful that athletes are shown in an inspiring way which people can look up to," said Claudio.
"You see them (Tobys models) in poses doing what they do best, showing off how good they are in their respective sports," he added. "Even the athletes saw the beauty and art in their poses!"
Claudio even called his three models as the heroes of our present time.
"Our whole objective is to inspire everybody to be fit and active, we need heroes to show that. They reflect what embodies a hero and a champion. We hope people see it as it is artistically presented," he said.
Claudio said they will never do anything to disgrade their ambassadors or their popular chain of stores for that matter.
"It was not pervert, the athletes themselves are very proud of the campaign and how they are portrayed in the campaign," Claudio added while revealing a video presentation to better explain their concept.
[To see full video, click here]
Asked to comment on his photos, the England-based Etheridge said: "Cool stuff."
For his part, Yap said: "Maayos. Maganda talaga. Isa sa mga favorite pose ko yun. Maganda nga ang feeback sa akin ng tao, gusto raw nila na maging ganyan din katawan nila.
"Sabi ko na lang sa kanila. Talagang kailangan maging healthy ang lifestyle at exercise," added the San Mig Coffee Mixers superstar.
[For full story, see Half-naked the most daring Yap is willing to go for bold ad campaign]