DAYS after bringing back to the PBA hardcourt the good old Chuck Taylor canvas shoes, Asi Taulava is set to take another step back in time on Tuesday.
The popular NLEX big man is set to show up for a PBA game on Tuesday wearing the throwback short shorts and body-hugging top popular during the pro league's glory days in the seventies and eighties.
"I am wearing a short shorts soon. It'll be okay in the couple of days. I am excited," Taulava told Spin.ph of his retro jerseys with are now being done by a tailor commissioned by Road Warriors team manager Ronald Dulatre.
"We're going back in a time machine, we're going back to the seventies. We're going back where basketball started. The short shorts, where the Converse and all these stuffs play," he added.
[See No ankle tape, no problem as Asi puts up high numbers on low-top Chucks]
The league's oldest active player also plans to show up with an afro hairdo to complete his retro look which he said is his way of paying tribute to the league's colorful past.
"Just reminding the younger generations: 'This is how basketball wass played during our time.' I think I am the last of the dinosaurs who played in that era," the former PBA MVP said.
Continue reading below ↓
Recommended Videos
Taulava insisted that the stunt is not about media mileage, as critics claim.
"This ain't no media hype or exposure. I am too old for that," the NLEX big man said. "This is for the love of the game."
The flamboyant center said the short shorts is also partly a tribute to league great Jojo Lastimosa, who has taken Taulava under his wings since coming on board as an assistant coach at NLEX.
"I am thankful to have coach Jolas as a mentor. He is teaching me the basics and advanced footwork, same how he played the game before," Taulava said of the former Purefoods and Alaska hotshot.
"He allots extra time to me early in the morning before practice. He's been teaching me how to move around the paint with the ball and how to properly position my feet in the attack," he said.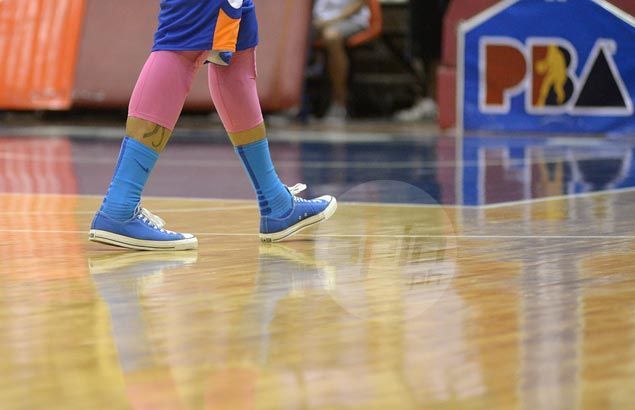 "He's been teaching me the 'kill zone' inside the box and shaded lane. He's giving me the heads up on how to evade my defenders. It's (footwork) been my waterloo for years. Now I believe it's not yet too late to learn new things everyday."
Taulava said he'll weigh the reaction of the fans to the retro outfit and take it from there.
"This is just for one game. It's very rare (that I'll wear it). Then we'll see how it goes from there. If it hits off then I might bring it back. Hope the fans appreciate it," Taulava said.
"I just want to share history and go out there and enjoy basketball and show the younger generations what we went through and how the PBA has evolved in a big transformation," he said.