PUERTO PRINCESA - Participants in the PBA All-Star game are dropping like flies, and Asi Taulava is the latest to catch the bug.
The evergreen NLEX slotman has been in this city since Tuesday and has taken part in various All-Star activities, but is not feeling well days before the centerpiece North vs South game on Sunday because of the flu.
"I've been down by this flu for four days now. I can't move myself much. I hate this feeling," said Taulava in an interview with Spin.ph inside his room in Aziza Hotel on Thursday.
Taulava, who was voted to start for South in the midseason classic, has not hit the gym since being downed by the flu which he claimed worsened when he joined NLEX's trip to Baguio last weekend to grace the Panagbenga Festival.
"It was too cold up there," said Taulava. "I had a grand time mingling with fans that I forgot I am not used to the weather."
The former league MVP is just the latest All-Star to fall ill, joining a growing list that includes South teammates June Mar Fajardo and Dondon Hontiveros and North starter Mark Caguioa.
[See Caguioa, Hontiveros to sit out PBA All-Stars]
Continue reading below ↓
Recommended Videos
Also, Slam Dunk favorite Chris Ellis has also begged off from the side event along with another former champion, KG Canaleta.
However, Taulava said he will do his best to be able to play in Sunday's game, so as not to disappoint fans who have voted to put him in his 13th All-Star appearance.
"I want to play out there and make my 13th All Stars. I don't want to frustrate the fans who voted for me," said the top three vote-getter among fans.
The NLEX main man is taking regular dose of paracetamol to arrest his fever, with assistance from the secretariat of event organizers Rio Tuba Nickel Mining and CoralBay Nickel Corporations.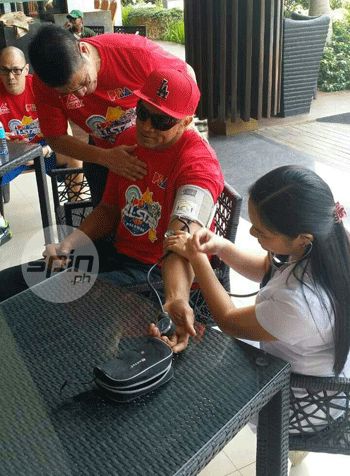 Meanwhile, North starter Calvin Abueva also has yet to arrive in this city since the hard-nosed Alaska forward is attending to his sick son in Manila.
He vowed to take the earliest flight to Palawan on Saturday.
Rain or Shine star guard Chris Tiu, who is competing in the three-point shootout, is arriving Friday afternoon with the last batch of PBA governors despite nursing a broken nose bridge caused by an accidental collision with teammate TY Tang in practice Tuesday.
On Thursday, half of the 60-man PBA All-Stars delegated visited the Palawsn Provincial Hospital to bring cheers to the patients.
The other half will take part in the post-lunch courtesy call and press conference at the Governor's Pavillion with Palawan governor and Kia Carnival team owner Pepito Alvarez, who will be joined in by PBA commissioner Chito Salud and NickelAsia vice-president for corporate affairs JB Baylon.