THE moment he heard the news about a coaching change at Globalport, PBA superstar Asi Taulava has gone all out in pushing for his former mentor at Air21, Franz Pumaren.
Currently playing for the NLEX which bought the Air21 Express franchise, Taulava declared that the former Dela Salle mentor is too good not to be coaching in the pro league.
"Please tell Boss Mikee (Romero) to pick up Franz. He can turn things around for GlobalPort. I should know, because I was with Coach Franz and I saw how hardworking and determined he is," said Taulava after news broke that Pido Jarencio is out as GlobalPort coach.
"Coach Franz is too good a coach to be left behind. He is one of the best coaches who handled me," he added.
[See Pido Jarencio out as GlobalPort coach, Eric Gonzales to call shots on interim basis]
The former league MVP, whose career experienced a resurgence at Air21 under Pumaren, is also aware of previous negotiations between GlobalPort and Pumaren last month which broke down for unknown reasons.
"Yeah, I heard about it. I know it's true. A lot of people told me. I just hope that Boss Mikee will find ways to revive the talks. Coach Franz can surely help them," he said.
Continue reading below ↓
Recommended Videos
"GlobalPort has all the tools. You just need a captain to steer the wheel. Not to take anything away from coach Pido (Jarencio), but Coach Franz is known to turn garbage into gold," added the 42-year old cager.
Taulava bared the upsides of Pumaren as a coach.
"He can motivate players, he brings out the best in you. He also knows how to handle head case players … like me," he said with a laugh.
"Well, man, if I get the chance to talk to Boss Mikee right now, I will tell him to go grab Coach Franz. Have you seen the comments of the fans? Even them know that Coach Franz is the missing link right there," he said.
[See New lease on life for Jarencio as Romero gives under-fire coach fresh chance]
Meanwhile, Pumaren's wife Odette told Spin.ph she has noticed a different aura in her husband since he left the PBA.
"Oo, nanibago talaga ako sa kanya ngayon. Kasi dati after his work sa City Hall, he would immediately review his plays. Franz kasi has dedicated half of his life sa basketball," said Mrs. Pumaren.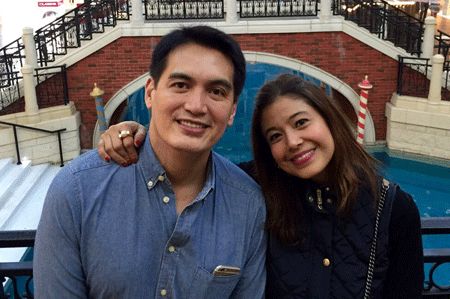 Asked if Pumaren is capable of bringing wonders to a struggling Globalport team, Odette said: "You asked the wrong person, because I am his wife (laughed). Pero I believe in him. Marunong siya kasing mag-motivate and he knows how to utilize and bring out the best in the players."
Odette said she was grateful for Asi's backing.
"Wow, he (Asi) said that? Asi is not with Global, that's funny. Pero hindi ako nagulat kasi Asi is very supportive and he saw how Franz utilized him," added Mrs. Pumaren, who bared that her husband is leaving for a five-day business trip to Japan.
"I can't say Asi was changed into a new person by Franz pero sabi ko nga, Franz has the ability to bring out the best in you. Sa case ni Asi, nakita ni Franz na he is still one of the most dominant big men sa liga … and he proved him right," Mrs. Pumaren said.
"From his own experience, he knows how Franz can help. And the fans also see it."