IT'S been two decades now since Alfrancis Chua, the former champion coach and now the overall sports director of San Miguel Corp., first laid eyes on a soft-spoken, unassuming Fil-Am whose features reminded him of Hollywood action star Dolph Lundgren.
Eric Menk stands 6-foot-6, was barely 22 years old then, but already has a well-chiseled body built for basketball. He doesn't talk much and has controlled movements, making him more like a cyborg straight out of a Lundgren movie.
But boy, can he play.
'Ang lakas ng katawan, tsaka malakas talaga sa ilalim. Doon naman kasi talaga ang laro niya," recalled Chua of his first impression of the center-power forward from Michigan.
That brute strength would be Menk's passport to stardom, establishing himself as one of the most dominant big men in PBA history, among its 40 Greatest Players, a 10-time All-Star who goes by the nickname 'Major Pain,' and winner of four championships and an MVP trophy.
On Sunday, Menk's storied career comes to a close as Alaska – the last team he played for as a pro - fittingly gives him an honorable exit by retiring his jersey No. 30.
"Eric has had a career worth honoring. His effort and professionalism set the bar high for every player that follows into the PBA," said Aces coach Alex Compton. "We at Alaska were really glad to have him with us for the last two years of his career, and he had a great impact on our culture and team."
Continue reading below ↓
Recommended Videos
Chua, who was Menk's first ever coach here both as an amateur and a pro, vouched for the player's professionalism.
"Less talk yan and no complaint," he said. "Kahit minsan hindi ako binigyan ng sakit ng ulo niyan."
[See Alaska set to honor Eric Menk with jersey retirement ceremony]
It was in August 1997 in Cagayan de Oro City when Menk first came to the country to play for Tanduay in the VisMin Cup sortie of the now defunct Philippine Basketball League (PBL). Chua let longtime deputy Itoy Esguerra call the shots for the Rhum Master, but went down south with the team as he wanted to personally see how good Menk was.
A product of Lake Superior State, Menk had a Filipina for his mother. A friend of Chua who knows the family back in the U.S. referred the young player to him.
"May nagpadala ng tapes sa akin, and may kaibigan ako na kilala nung pamilya nila. Kaya sige, sinubukan namin.'
Already a power in amateur basketball back then, Tanduay didn't send the core of its champion team in the VisMin tournament that featured a Blu Detergent ballclub bannered by a young Asi Taulava, Jimmy Alapag, and Rob Duat.
That left Menk with the burden of carrying the Rhum Masters in his broad shoulders. While the team didn't win that much, a star was born by the time the entire PBL delegation came back to Manila.
"Puro patay nga ang kuko niyan sa paa, kasi 'yung sapatos na gamit niya ang sikip. So pinabilhan pa namin ng mga sapatos," said Chua with a laugh.
The Barangay Ginebra board of governor treated Menk like family, even remembering having him as a house guest in Eric's first-ever Christmas in the country.
After a dominant PBL reign, Tanduay took its act to the PBA and brought along Menk as one of six players it elevated from its amateur team.
It was with Ginebra though, where Menk would reach the peak of his pro career, winning all of his four championships with the league's most popular ballclub and bagging the MVP during the 2004-05 transition season.
"He's a smart player," said former Ginebra mentor Jong Uichico, the last PBA coach with whom Menk won a championship in 2008. "It's easy to communicate with him. It's quite easy to coach him because he plays like he is a coach. So he understands very well and absorbs what you're telling him very easily."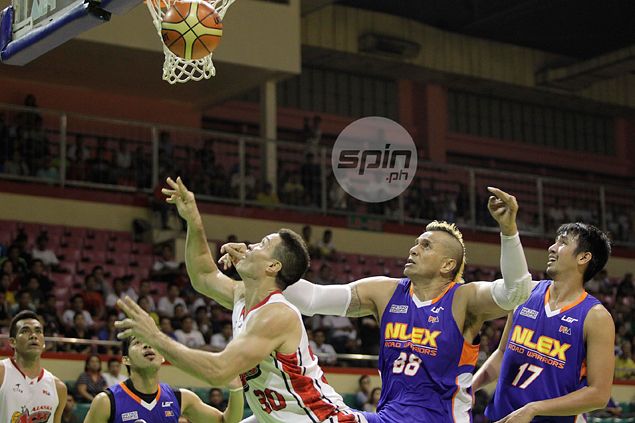 But soon after, the wear and tear of the game caught up with him.
A knee injury took its toll on him in 2010, eventually keeping Menk out for most of the following season.
In 2012, Ginebra decided to put him on the unrestricted free agent list, at which time Chua joined the Kings as part of its coaching staff.
He understood the stand of the ballclub when it finally let go of its ageing veteran. But if he already has a say in team decisions back then the way he has today, Chua didn't mince a word about what move he'll do.
"Oo naman (kukunin ko siya)," he said. "Iba kasi pag may tiwala ka doon sa player."
Just like the way he did 20 years ago.