ARNOLD Van Opstal may not be getting plenty of action on the court these days, but he's still getting spotlight on the bench for his unique style decisions.
After starting to sport silver hair since the early part of the PBA season, the San Miguel Beer rookie has recently been showing off a Mandala tattoo on the back of his head.
At first glance, the tattoo looks like part of his hair, but when you look closer, the ink reveals the flowery, yet sharp-ending details, including his jersey number "7" placed in the middle.
"It represents new experiences in life and staying in the present moment, and not being a slave to societal contracts that tell you what you can and can't do," Van Opstal said in a chat with SPIN.ph after practice last Saturday, telling the story behind his newest tattoo that he got three weeks ago.
The Filipino-German cager said the ink doesn't necessarily relate to his basketball career directly.
"It relates to me as a person, so if my career is part of me, then it would relate to my career as well, I guess," Van Opstal said. "But like I said, it's more of being free from social contracts and doing what I want to do, and really I liked it, and other people's judgment – I don't care about that."
Continue reading below ↓
Recommended Videos
"If I like it, I'm going to do it, and if that's one thing that I want to be known for, then that's a good thing to be known for – to be independent in one's decisions and not be a sheep," he added. "I want to be my own individual; I want to do what I want to do…especially in a world where it is about following."
"I'm just trying to encourage people to do what they want, to be the people that they want to be, and for them to not let anyone tell them they can't be something or they shouldn't do something, or you can't get a job if you get a tattoo, or all that – it's not true," the 25-year-old cager continued. "Just be yourself, do what you want to do, and don't let fear guide you."
[See Van Opstal says he missed Gilas practices to attend to ailing pal, but eager to regain spot]
Van Opstal got the ink idea from British soccer player turned model Stephen James, who has a similar tattoo.
"He had a really nice Mandala on the back of his head, and I really liked the idea," the La Salle product said. "This is my own design, though."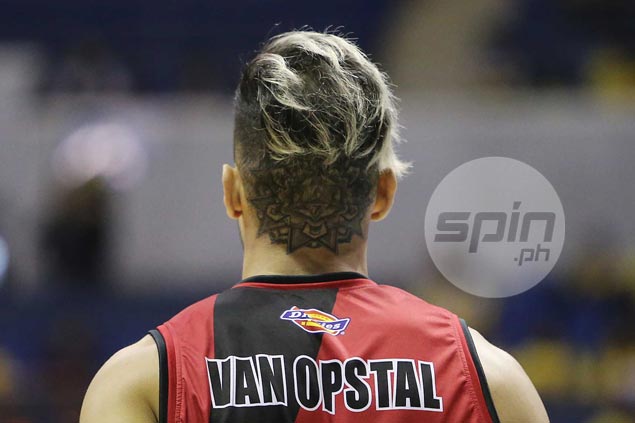 Van Opstal went under the tattoo gun of artist Joey Viar, who took two sessions and eight hours in all, including a six-hour first sitting, to get it done.
"It was really painful, but it was worth it," Van Opstal said with a chuckle.
It was also painful in the pocket as the tattoo job cost him P4,000 per hour, but AVO insisted it was worth it.
"It's worth it," Van Opstal insisted. "If you're going to have a tattoo for the rest of your life, I don't think you should think about the price so much, right? You want to be satisfied with what you get. And if you can afford it, why not?"
Van Opstal seems satisfied enough that he's already thinking about getting a new one.
"I'm working on a sleeve (tattoo) now," Van Opstal said, waiting for the right time to get another ink.
The 6-foot-9 slotman is also waiting for his shot at being part of SMB's rotation.
"I'm just waiting, man, waiting for my chance, because I know it's only a matter of time 'til I perform and show everyone what they haven't been seeing – and I know it," Van Opstal said. "I just got to be patient."