THE morning after Barangay Ginebra suffered an embarrassing beating in a game which fans anticipated would mark its glorious revival, Tim Cone perhaps still felt so bad that he took to Twitter to make a promise.
"We will make you proud," the Ginebra coach tweeted to fans who had to endure the sight of the league's most popular team falling flat on its face in a 72-101 loss to San Miguel on Sunday that set the stage for a sudden-death Game Five in their PBA Governors Cup semifinal series.
Cone could only commiserate with Ginebra fans especially those who were part of the 22,000-strong crowd that trooped to the Smart Araneta Coliseum expecting a victory but instead witnessed a game so lopsided from the opening minute on.
[See Tim Cone regrets decision to play zone defense against SMB early in Game Four loss]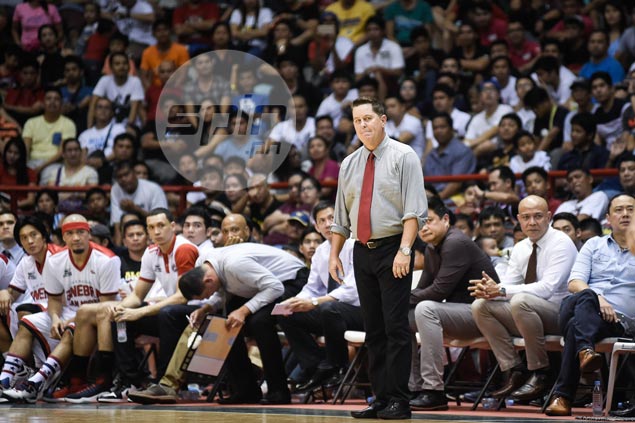 Continue reading below ↓
Recommended Videos
The two-time Grand Slam coach, however, couldn't say thank you enough to fans who stayed with the team until the bitter end on Sunday.
"Such a beautiful crowd last night, yet we fell flat on our faces," said Cone. "We're so sorry to let the fans down. They were great even if we were not.
"But we will pick ourselves up and fight for the fans in Game 5. We will make you proud," he vowed.