EVEN with Raymond Almazan away on duty with Gilas Pilipinas and Jay Washington still recovering from an injury, Rain or Shine's frontline didn't look shorthanded at all in its tune-up game against Centro Escolar University on Wednesday morning.
After all, there was this young, athletic cager who filled the void and leapt all over the Northeast Greenhillls gym to clean the boards, helping the Elasto Painters coast to a 99-76 win over the champion college team.
"Taas tumalon ni Andre," Beau Belga, one of the few big men present, marveled.
But, no, he's not Rain or Shine's newest player. Andre Paras insists he's just working out.
"Wala lang, just trying to get in shape, just get ready, nakiki-practice lang, nothing serious or anything like that," the 6-foot-4 cager said in a chat with SPIN.ph after the tune-up game. "Just working out with sila coach Jolly and the other coaches."
ROS assistant coach Jolly Escobar and Paras' dad - the PBA's only Rookie-MVP Benjie - happen to be former teammates at Shell and remain close friends.
"I just asked if I could practice," the younger Paras, who has been training with the team for a week now, said. "They're very welcoming and they allowed me, and I took the opportunity to learn from mga big men here, at the same time the coaches here."
After a two-year break that saw him dabble in show biusiness, Paras made a rousing hoops comeback a few months ago as he turned heads in the D-League where he averaged close to a whopping 20 rebounds per game for AMA in the last conference.
Now, the former University of the Philippines slotman and San Beda Team B campaigner is continuing to make the steps toward his hoops dream, although he's not yet keen on declaring for next year's draft.
"I'm not applying anytime soon for the draft," Paras said. "Still just focusing on my studies and just working out and getting better, trying to get in shape, trying to find the perfect timing lang."
Paras, who turned 22 this month, is enrolled at AMA on a three-year English studies online course.
"I can finish faster kasi online naman siya, so I can take classes everyday. It's up to me when I want to finish," he said. "There's no rush naman graduating, pero I'm on track to getting a diploma, which is important for me, and to learn something."
And he still has time for acting.
"Sometimes, I still do that for work as well, while waiting and training," the celebrity cager said. "Nasasabay ko naman, which is good."
Managing to juggle his responsibilities, Paras is glad to have the chance to work out with the Elasto Painters.
"He's just working out with us, para ma-experience rin yung feel (of PBA-style play)," ROS coach Caloy Garcia said.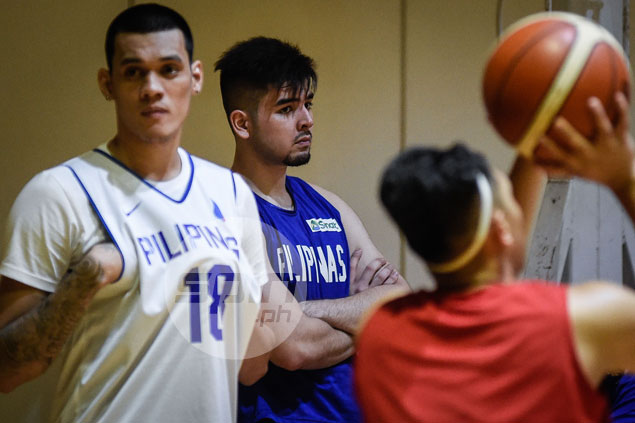 But with only 10 players in attendance on Wednesday, Garcia gave Paras the chance to play in the tune-up game where the amateur standout relished the opportunity to play with pros.
"It's amazing," Paras said. "I can see kung ano pa 'yung kulang ko, like I'm still out of shape, at the same time patience, and pretty much skills, cause these guys are veterans; alam nila ginagawa nila kahit nakapikit 'yan. They know everything, they've mastered everything, kaya nga nasa pros na sila. I know I have a lot to work on.
"And what's good is wala pa naman ako sa pro level, pero I can see what I can work on para, if ever, when the time comes, ready na ako," added the brother of teen sensation Kobe.
Paras particularly made the most of the chance to play against Belga in practice and learn from the veteran stretch center by playing together in the scrimmage.
"He's very solid," Paras said. "I've never played football before, but I think he can play American football. Defenders like kanina sa scrimmage, walang nakakapasok na big man sa kanya. He knows how to defend well, and he's very fast. He's quick, he knows when to use his moves, at the same time, he's a big man who can shoot from the outside.
"I've never underestimated him because I have so much respect, kasi you know how people defend na parang tinatamad, but you have to defend Beau really good, kasi once he knows you're slacking, he's going to eat you talaga – he's going to drive, he's going to shoot. He's the perfect big man talaga eh, to look up to as well," he added.
Once he feels he has tools like Belga, then that's probably the time to apply for the draft.
"It depends on the way I train and the way I get better, kasi if I force things, ako naman yung kawawa," Paras said. "I'm the one who's going to suffer in the league. I don't want to regret anything. I want to make sure everything's perfect, kumbaga being in shape, being mentally prepared."