AMID the furor over the cancelled event featuring Gilas Pilipinas and a band of NBA players, support has quietly grown for top basketball patron Manny V. Pangilinan who has unflinchingly owned up and apologized for the mess on Tuesday night.
As the anger over the failed 'Last Home Stand' offering simmered, Spin.ph has started receiving messages from fans who felt the head of the PLDT group and president of the Samahang Basketbol ng Pilipinas (SBP) does not deserve all the brickbrats over a 'noble gesture' gone bad.
One fan even wrote that the blame should be pointed at Pangilinan's subordinates for "trying to push through with the event, by sugarcoating the initial agreed 'clinic' into a Gilas versus NBA stars affair."
"Sad to see MVP taking all the blame, even if the whole fiasco is the fault of his incompetent subordinates," said the fan on Spin.ph's Twitter account.
Some fans expressed full support and empathy for Pangilinan, who they said meant well by organizing an event that would help Gilas Pilipinas in its buildup for the Fiba World Cup and the Asian Games and at the same time bring quality entertainment to Filipino fans.
"Ang dami ng nagawa sa Philippine basketball, sa isang Mali na di naman sya me kasalanan sisi agad??," said Michael Antonio, a basketball fan, on Twitter.
That Pangilinan stood before the media and apologized for the fiasco earned him the admiration of some netizens.
"The humility showed by @iamMVP is unprecedented. Very admirable for a man of his stature. You wanna be successful? This is how you do it," said a Ginebra fan who goes by the Twitter handle Kume Cheetos Salud.
Samahang Basketbol ng Pilipinas executive director Sonny Barrios, who was with Pangilinan during the impromptu press conference on Tuesday night, was also left saddened by the attacks on Gilas' chief benefactor.
"Oo nga, nakikita ko din yung comment nila. Siyempre, nasasaktan rin ako kasi knowing MVP, he only wants the best for the Filipinos. It's so sad that the event had to end this way," said Barrios.
"Sana lang huwag naman nilang masyadong i-crucify yung tao. Nag sorry naman na siya. Inako na niya ang lahat ng kasalanan at nag-offer pa ng refund," added the former PBA commissioner.
"Ang nakakatakot dito, na ipinapanalangin namin na huwag naman sanang mangyari, eh yung abutin na magsawa na yung tao sa pagtulong. Mas lalong malaking problema sa atin pag nawala ang tulong niya."
Here are other tweets from fans: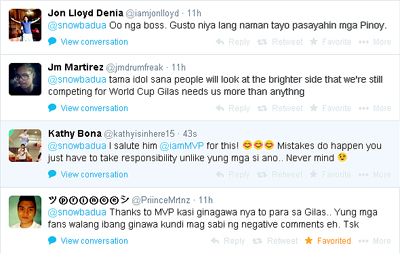 More news about the cancelled Gilas-NBA game:
According to an insider, the group of top basketball patron Manny V. Pangilinan will end up footing a US$4.6 million bill, or around P200M.
Gilas Pilipinas tune-up game cancelled as NBA players barred from playing in 'unsanctioned event' 
Samahang Basketbol ng Pilipinas president Manny V. Pangilinan himself apologizes for the foul-up that caused the cancellation
Some officials now face the ax after the embarrassing cancellation of the event, according to a source
Even the Gilas Pilipinas players were surprised with the sudden change from game to mere workout with NBA players
The NBA players actually met the morning of Tuesday after receiving threats of possible suspensions from the US league