THE Smart Bro-PBA Philippine Cup enters the playoffs on Christmas Day. But before the fireworks begin, it's time to hand out some early gifts to some players who've been bad, bad men on the basketball court. And that's meant as a compliment. Introducing the 2015 PBA Philippine Cup's All-Underrated Team.
This list is based on the performances of PBA players in the elimination round of the Philippine Cup. Inclusion on this list simply means the player has performed way beyond the value most basketball observers expected from him. In short, they're the 'where the heck did that guy come from?' type of players.
Thus, this disqualifies the likes of surprising but justifiable achievers like GlobalPort's Stanley Pringle or NLEX's Asi Taulava, who are both in the Top 5 of the Best Player of the Conference statistical standings. The reigning Rookie of the Year's rise was only a matter of time, while Taulava's resurgence already began last season.
It's best to start with some honorable mentions, players who almost made the cut for the most undervalued overachievers in the PBA Philippine Cup, starting with Blackwater's JP Erram. The three time UAAP champ got drafted 15th overall in 2013 by a Talk 'N Text team that had a stacked frontcourt. Erram got traded to Blackwater a year later and found an increased role this conference, leading the league in blocks (2.0) despite the presence of behemoths like SMB's June Mar Fajardo and Ginebra's Greg Slaughter.
Continue reading below ↓
Recommended Videos
Joining Erram among the notable surprises this Philippine Cup is Mahindra Enforcers forward Aldrech Ramos. In technically his fifth team after four PBA seasons, the former fifth overall pick by Barako Bull in 2012 has been given more exposure and consequently blossomed with Mahindra, ending up in the Top 20 of the Best Player of the Conference race with 25.2 statistical points (SPs).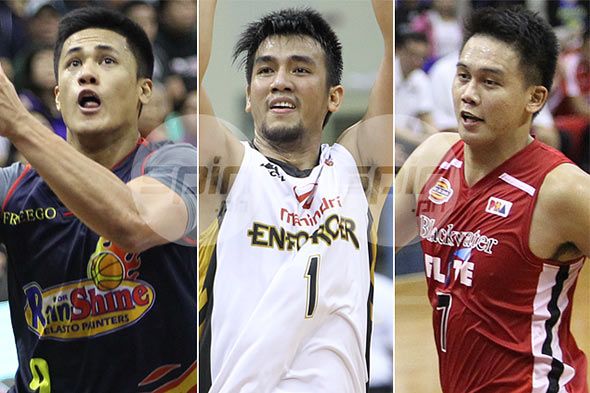 The toughest cut from the All Underrated team this conference is Rain or Shine's guard Jericho Cruz. He's the other sophomore aside from Pringle who cracked the 20 top performers of the 2015 Philippine Cup with 25.2 SPs while averaging 13.8 points, 2.6 rebounds, and 2.4 assists. With ROS top gun Paul Lee sidelined so far this season, Cruz has made the most of the opportunity by becoming the team's second leading scorer behind Jeff Chan and in turn finishing in 19th spot in the BPC standings.
Now here are your starters for the PBA Philippine Cup's All Underrated Team:
Point Guard - RR Garcia/ Barako Bull
Since moving out of the backcourt logjam at GlobalPort in 2014, Garcia has seen his minutes and production rise. The former UAAP MVP has struggled to find consistent playing time and opportunities with the team that drafted him in 2013 alongside his more celebrated FEU teammate Terrence Romeo. But once he got traded to Barako Bull, he flourished first as an understudy to Denok Miranda before taking over this year as the team's starting point guard and second leading scorer (17.1 points per game). Too bad a dislocated shoulder will force him to miss the remainder of what's become his most successful conference as a pro.
Center – Raymond Almazan/ Rain or Shine
Almazan entered the league a reed-thin NCAA MVP out of Letran in 2013. But in just two seasons, he's flexed his muscles to almost double his scoring and rebounding output (10.9 points and 9.5 boards, from 5.47 markers and 5.32 rebounds as a rookie, respectively). Adding 1.1 blocks to his averages this season, Almazan has emerged as the Elasto Painters best big these days, leapfrogging the more popular 'Extra Rice Inc.' tandem of Beau Belga and JR Quinahan. Last December 16, he even posted his best game as a pro with career highs of 21 points and 17 caroms in a win over Meralco.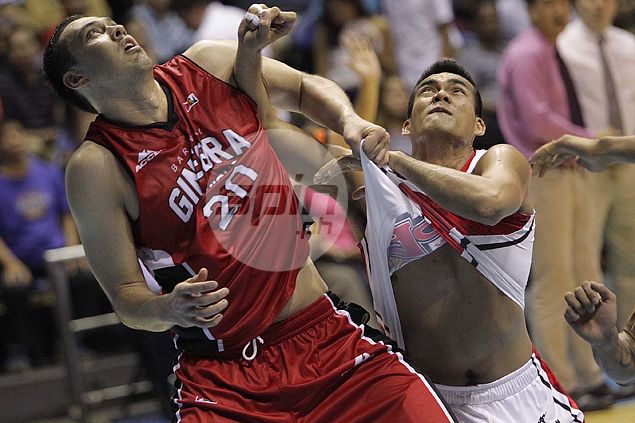 Power Forward – Vic Manuel/ Alaska
After a rough start to his PBA career that saw him bounce around four teams in two seasons, Manuel has found his footing this year. He played a supporting role to Alaska's core quite well in his first two years with the Aces, but the Licab, Nueva Ecija native has taken his game to another level this conference. He leads the team in scoring (16.4), second in rebounds (8, behind Calvin Abueva's 8.5 clip), and tied with Abueva for the steals mark (1.4). His all-around performance has helped the Aces become the top seed of the Philippine Cup and slotted him at seventh in the BPC standings.
Small Forward – Willy Wilson/ Barako Bull
No one can explain what's happening to Wilson this year. The 12-year veteran from La Salle has never averaged more than six points and five boards a game in a season, until now. He comes in with career highs in points (17.7), rebounds (12.0), one of only four players with at least 12 boards a game, and assists (2.8). He even dropped a monster 28-20 game against powerhouse Talk 'N Text on December 3 to earn his first Player of the Week award, at age 35.
Shooting Guard – Sean Anthony of NLEX
It's a little bit of a stretch to put Anthony in the shooting guard position, but out of the five most undervalued guys in the league right now, he fits right in as a natural slasher. It also helps his case that he has become one of the league's most prolific scorers as he's the shortest among the three players who average at least 20 points and 11 rebounds. The two other guys, Fajardo and Slaughter, can score at will down low. Anthony has to find other ways to get buckets. This Philippine Cup, the undersized forward of the Road Warriors has done just that quite easily, even dropping a career-high 37 on Rain or Shine's vaunted defense on December 19. Anthony, by the way, has two Player of the Week citations under his belt this conference and is third in the BPC rankings aft the end of the Philippine Cup eliminations.