ALEX Cabagnot had an inkling years back that he will cross paths with Paul Desiderio's and Diego Dario's in the PBA.
"When I had them three or four years ago, I told them they could have the opportunity to play in the PBA, the highest level in the Philippines," said the San Miguel court general, who also serves as an assistant coach for the UP Fighting Maroons. "They were, kind of, 'Grabe naman si coach. Sobrang taas naman ng dream niya sa amin.'"
Cabagnot's words proved prophetic after Desiderio and Dario were selected in the 2018 PBA Rookie Draft. And on Wednesday, their paths converged as the mentor faced off with his students when San Miguel battled Blackwater in the 2019 PBA Philippine Cup.
They may be on opposing sides now, but the 36-year-old veteran couldn't be any prouder with how the two are faring in their first conference in the pro league.
"I'm very happy that they're getting a lot of minutes. Paul had a lot of minutes, Diego had some spot minutes today, and I wish them the best," he said, adding the two rookies are now reaping the rewards of their extra hours of practice in Diliman.
Continue reading below ↓
Recommended Videos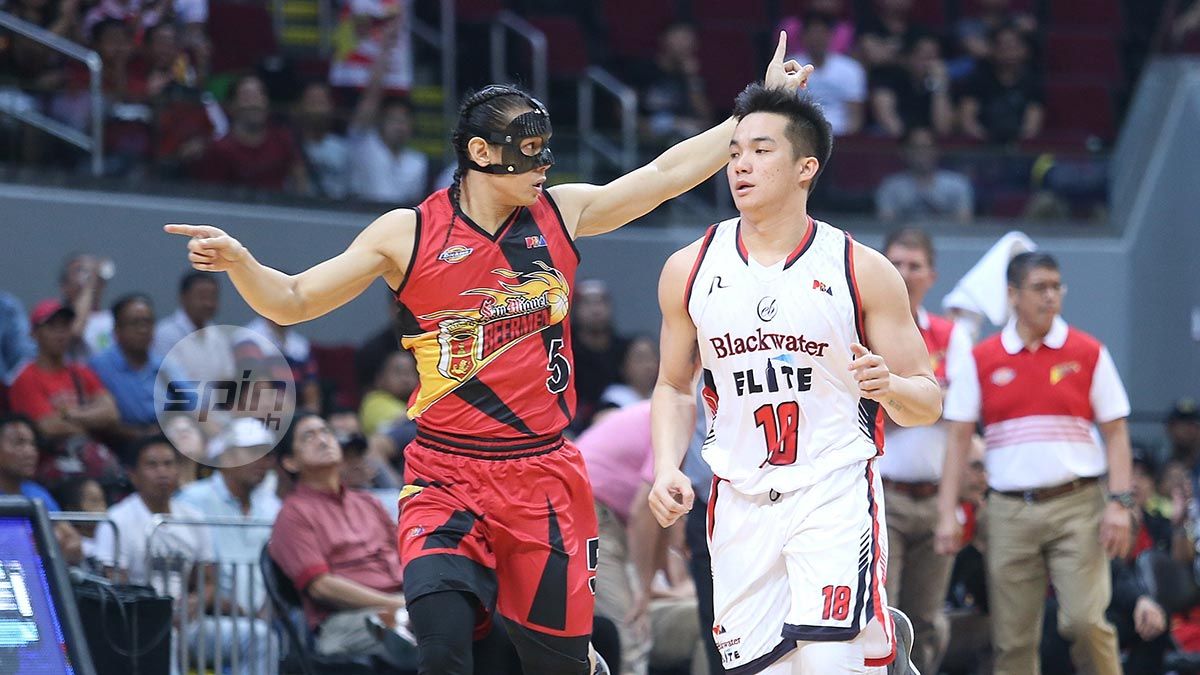 "I know their work ethic, I know their potential, and I'm glad those late-night workouts we had at UP, and those time we had, yung mga extra sessions namin, it's not in vain. Nakadating dito sa kanila."
Cabagnot wasted no time schooling his proteges as he seemingly scored at will on Desiderio every time they were matched up on the floor to finish with 19 points and five assist on top of a rebound, a steal, and a block.
"Sabi ko nga, 'Paul, bakit mo ako ginagwardiyahan?' But you know Paul, he's just one of those strong guys naman talaga. Nagkataon lang yun," he said with a chuckle.
"I'm sure there's gonna be a lot more match-ups. I tell him all the time, 'Take it easy on me pag dumating ka na sa PBA kasi I won't be as young anymore.' It's just that today, nakakatapat lang."
It was a rough night for the students. Desiderio wound up with four points on 2-of-8 shooting, alongside four rebounds and two assists, while Dario went scoreless but dished out two assists in seven minutes for the Elite.
Cabagnot assured Desiderio and Dario that he'll always be there for them.
"I always give them advice pa rin. Nakakailang nga because they were calling me, 'Coach.' Sabi ko, 'Wag mo naman akong tawaging coach. Nahihiya na nga ako eh,'" he said with a laugh.
"Pero, of course, I tell them to stay aggressive. If they have the open shots, just take it. I know they're prepared to take it. Those are the little windows that they need to take advantage of, so even today, I was telling Diego and Paul, even on the bench, I was like, 'Dong, be aggressive.'"
His words, though, aren't falling on deaf ears as Cabagnot somehow sees some of their drills in UP before being used into action by Desiderio and Dario, especially in this duel.
"We do this four-minute drill that I put four minutes on the clock, then they do one dribble, two dribbles, and step back. And si Paul, he did two dribbles, he pump-faked, tapos ako pa yung pinump-fake niya. I think he missed it though, pero going down, I said, 'That's a good move. Good move.' Kasi 'yun talaga 'yung dini-drill namin," he said.
"Even Diego, I think he came down one time and he passed it, and I told him, 'Diego, shoot that, man. You work on that all the time, so shoot that.' I know that's bad because I'm playing for San Miguel, pero kahit na hindi kami teammates, I want them to do very well talaga. They're in a special place in my heart talaga."
As happy as Cabagnot was for the two, he wants to remind both Desiderio and Dario about one thing now that they're here in the PBA.
"I tell them all the time, sometimes, the PBA is easier to get in to. The hard part is staying. So I hope they remember that," he said.