ANTIPOLO CITY – Alex Compton is at a loss on when top gun Calvin Abueva would play anew for Alaska in the PBA Governors Cup.
Other than saying Abueva 'has personal matters to attend to,' the mild-mannered coach could offer no assurance that the team's acknowledged heart and soul will suit up for the beleaguered Aces before joining Gilas Pilipinas in the Fiba Asia Cup in Lebanon two weeks from now.
Abueva was nowhere to be found at the Ynares Center when Alaska absorbed a third straight loss in the season-ending tournament following a 101-92 beating at the hands of Star on a rainy Friday night.
"There's a personal matter he's taking care of. That's all I can comment right now," said Compton when asked about the whereabouts of the enigmatic undersized forward.
The Aces will play TnT Katropa in their next game Friday of next week. But Compton couldn't guarantee if Abueva will be available by then or days before the national team flies out of the country for the August 8-20 campaign in Beirut.
[See Malcolm Hill hits heights as Star sends Alaska reeling to 11th straight defeat]
Abueva is one of 12 players named by coach Chot Reyes as part of the Gilas team competing in the tournament known before as the Fiba Asia Men's Championship.
'The Beast' also didn't attend Gilas' practice on Thursday night.
"We'll find out in the coming days," Compton added. "Other than that, I don't have any comments that I can give you right now."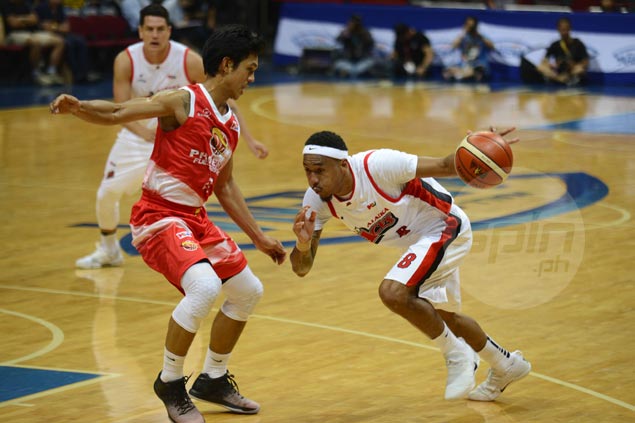 Abueva averaged 10.0 points, 10.5 rebounds, and 3.5 assists and 25 minutes of play in the first two games he played this conference.
But even those numbers couldn't get Alaska over the hump as the Aces' losing skid extended to 11 straight games over a span of almost four months.
Compton acknowledged frustration is fast creeping up on the team.
"If we're not frustrated (with the losing), I'll say we have a very serious problem," quipped the Alaska coach. "I hate losing, it's stressful."
Compton lauded the effort the Aces always bring to the table every game, but couldn't fathom what's going on with the team, whose last win came last April 2 against Rain or Shine during the Commissioner's Cup.
"There's not a great depth of inside that I can give you right now other than we're losing," he stressed.