IF Alaska coach Alex Compton tried to play mind games to start Game Seven of the Smart Bro-PBA Philippine Cup finals against San Miguel, he did succeed.
In a bizarre move, the American mentor called three successive timeouts just a second into the winner-take-all game got underway at the Mall of Asia Arena, catching not only the Beermen but the sellout crowd inside the venue – and millions more on television - by surprise.
Not only that. He had more surprises up his sleeve when the game resumed as Compton promptly substituted his first four players of veteran Eric Menk, Samigue Eman, Dondon Hontiveros, and Rome De La Rosa for Calvin Abueva, RJ Jazul, Sonny Thoss, and Vic Manuel.
Only Cyrus Baguio was left on the court out of the Aces' starting unit.
"This is planned, this is strategy," TV 5 courtside reporter Apple David quoted Alaska deputy Louie Alas as saying after listening in during the Alaska huddle.
"Tactical," Alas later confirmed to Spin.ph as the Aces came out of their dugout at halftime.
Compton also didn't talk nor design any plays during the two other timeouts and instead, let the rest of the Aces warm up on the sidelines.
Continue reading below ↓
Recommended Videos
As the game progressed, a guessing game started on what Alaska was up to.
"Platoon. Shades of Baby D, @manilacone did this against me too in one of our Finals series," former Gilas Pilipinas coach Chot Reyes later tweeted on his account @coachot.
The best guess came from TV5 commentator James Velasquez, who said the three quick timeouts were designed to take the mandatory TV stoppages out of the way as Alaska tried to push the ball and press at every opportunity.
That planned pace also explains the platoon substitution Compton made during the course of the second half, he added.
Here's his tweet: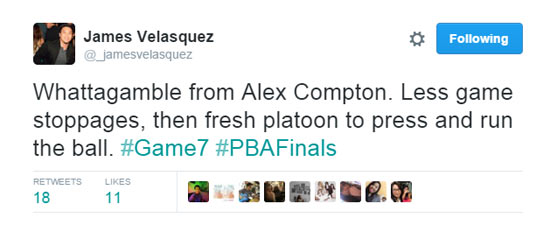 San Miguel took a 43-38 lead at halftime.