GETTING valuable international experience in the US in preparation for the PBA will hardly mean anything if no one won't be able to see you play in the Philippines.
That's why Ael Banal made the most of two-day Draft Combine capped by the mini tournament his team won on Thursday.
After playing for the Ateneo Eaglets in high school, Banal, son of champion coach and former PBA star Joel, took his talent to the US where he first played for Victory University in Memphis for two years, before transferring to Hope International University in California.
The former national youth team standout eventually returned to his native country and continued his buildup in the PBA D-League this season, drafted in the sixth round last year by Tanduay before suiting up for Racal.
"I think that was my first time playing Filipino basketball again after five years," Banal admitted. "It was a good run-up for me. I got to test a little bit the competition. I think it was really important for me in terms of my career."
[See PBA board distributes Gilas cadets to 12 teams in 'pre-agreed' order prior to draft]
The 6-foot-2 combo guard gained exposure anew in the Combine in front of several scouts.
Continue reading below ↓
Recommended Videos
"(Getting exposure before the draft is) really important because for me, not playing here in college, one thing I don't have going for me is exposure," Banal said a day before he turns 24. "So I think it kind of worked to my advantage to get a little bit of exposure today with the coaches watching."
Banal, regarded as the first Filipino to get into a US college varsity team straight from high school in the Philippines, seemed to make a good impression as he capped his play by knocking down back-to-back three-pointers late in overtime of the final game that allowed his team to seal the deal.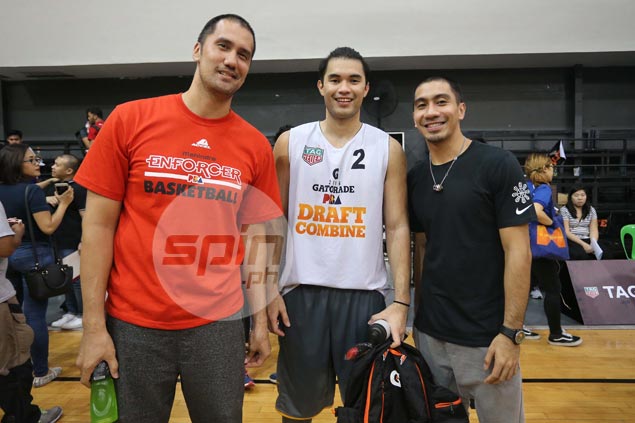 "It's the championship game," Banal said. "I was coming into the scrimmage more to have fun, more to enjoy everything, but my competitive juices came out, and you know, I wanted to win. we all wanted to win."
"And that's always been one of my assets, my outside shooting, and my scoring touch, so I was able to display a little bit of it today," he added.
[See Kobe Caluya, 43, says he can help rekindle fans' interest in PBA]
What he's prouder to display is the name on the back of his jersey that entails expectations.
"There's always gonna be pressure," Banal admitted. "If you're an athlete there's always gonna be pressure, but I see it as an opportunity to play and represent the Banal name, especially in the professional level."
"I'm really excited, trying to enjoy and not really expecting anything," he added. "Ever since Day One, my job is to keep working hard and that's it."