FIL-AMS were the early picks in the regular phase of the 2019 PBA Rookie Draft Sunday at Robinson's Ermita in Manila.
Columbian loaded up on its scoring, making Roosevelt Adams the first pick outside the five previously drafted in the special draft for Gilas Pilipinas-bound players.
Adams, who played for Go for Gold in the PBA D-League and Mighty Sports in various international competitions, is a certified scorer who can also lock down on defense thanks to his athletic gifts.
His arrival is a sure boost for the Dyip, who relied mostly on rookie CJ Perez last season.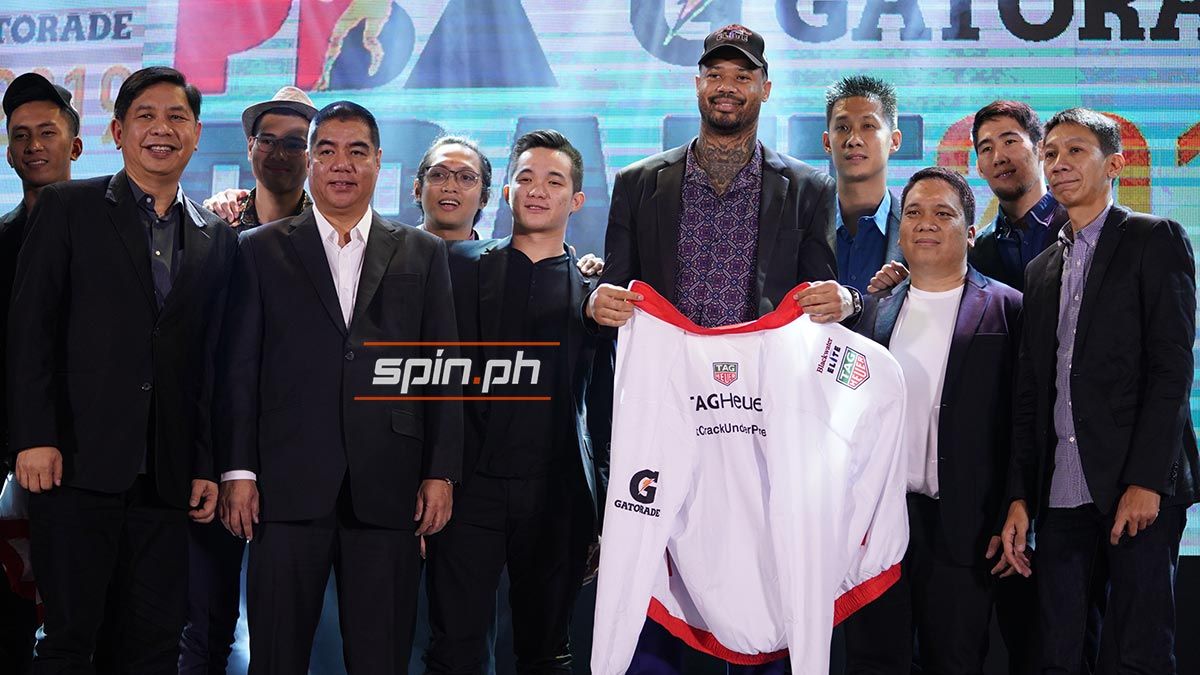 Continue reading below ↓
Recommended Videos
Blackwater also went with former Harlem Globetrotter Maurice Shaw, a 6-foot-8 bruiser who is a definite boost for the Elite's frontline in the reign of new coach Nash Racela.
Lethal scorer Mike Ayonayon, who made a name for himself in the MPBL and D-League, also joined NLEX at No. 3 before teams went on a mad rush for rookie bigs.
FEU banger Barkley Ebona went to Alaska at fourth, before Rain or Shine selected Blue Eagle shooter Adrian Wong, San Beda winger Clint Doliguez, and La Salle banger Prince Rivero with the next three picks.
NorthPort continued that trend picking versatile Adamson winger Sean Manganti at eight, before Magnolia took St. Clare beanpole Aris Dionisio at nine, and Ginebra selected FEU forward Arvin Tolentino at 10.
Rounding out the first round were La Salle defender Kib Montalbo who went to TNT at 11, and unheralded Letran big man Christian Balagasay, who Columbian picked at 12.
Letran captain Jerrick Balanza slid to the second round but was immediately taken by Ginebra, keeping him in the same side as Knights assistant coach LA Tenorio.
Surprises continued, with Richard Escoto (Blackwater), Will McAloney (NLEX), and Rey Publico (Alaska) being taken next, before Lyceum skipper Jaycee Marcelino went to the Aces.
Aaron Black went to Meralco, linking up with his father and head coach Norman in the Bolts camp.
After him were Vince Tolentino (Rain or Shine), AC Soberano (NLEX), and Yankie Haruna (Magnolia).
With the Hotshots passing up the chance, Ginebra swooped in and snagged Kent Salado in the second round, before the drafting of Wendell Comboy (Rain or Shine) and Renzo Subido (NorthPort) ended the round.
Some of the names who slipped in the latter rounds were Letran shooter Bonbon Batiller (Columbian) who was taken in the third round, as well as Jayvee Marcelino (NLEX) and Valandre Chauca (TNT) who were called in the fourth round.
Fifty of the 67 aspirants were called up the stage in this year's draft which lasted for six rounds.
Here's the complete list:
Special Gilas Draft:
1. Columbian - Isaac Go
2. Blackwater - Rey Suerte
3. NLEX - Matt Nieto
4. Alaska - Allyn Bulanadi
5. Rain or Shine - Mike Nieto
First Round:
1. COL - Roosevelt Adams
2. BLW - Maurice Shaw
3. NLX - Mike Ayonayon
4. ALA - Barkley Ebona
5. ROS - Adrian Wong
6. ROS - Clint Doliguez
7. ROS - Prince Rivero
8. NOR - Sean Manganti
9. MAG - Aris Dionisio
10. GIN - Arvin Tolentino
11. TNT - Kib Montalbo
12. COL - Christian Balagasay
Second Round:
1. GIN - Jerrick Balanza
2. BLW - Richard Escoto
3. NLX - Will McAloney
4. ALA - Rey Publico
5. ALA - Jaycee Marcelino
6. MER - Aaron Black
7. ROS - Vince Tolentino
8. NLX - AC Soberano
9. MAG - Yankie Haruna
10. GIN - Kent Salado
11. ROS - Wendell Comboy
12. NOR - Renzo Subido
Third Round:
1. COL - Bonbon Batiller
2. BLW - Chris Bitoon
3. NLX - Gelo Vito
4. ALA - PASS
5. PHX - Toci Tansingco
6. MER - Michael Canete
7. ROS - Luke Parcero
8. NOR - Cris Dumapig
9. MAG - Alvin Capobres
10. GIN - Fran Asuncion
11. TNT - Simon Camacho
12. SMB - Travis Thompson
Fourth Round:
1. COL - Marco Balagtas
2. BLW - Hubert Cani
3. NLX - Jayvee Marcelino
4. PHX - Spencer Pretta
5. MER - PASS
6. ROS - PASS
7. NOR - Dexter Zamora
8. MAG - PASS
9. GIN - PASS
10. TNT - Valandre Chauca
11. SMB - Daniel de Guzman
Fifth Round:
1. COL - PASS
2. BLW - PASS
3. NLX - Jeramer Cabanag
4. PHX - Jeff Santos
5. NOR - PASS
6. TNT - PASS
7. SMB - Von Tambeling
Sixth Round:
1. NLX - PASS
2. PHX - PASS
3. SMB - PASS