TEEN sensation Daniel Padilla on Wednesday explained his decision to beg off from the AMA Computer University team that will see action in the coming PBA D-League Aspirants Cup, saying he doesn't feel that he deserve the spot.
"Personal na desisyon ko 'yun (pullout sa team). Hindi naman ako para sa basketball. Mas marami talagang players na dapat maglaro. Hindi naman tulad ko na pinasok lang," the 19-year-old star of the blockbuster movie 'She's Dating A Gangster' told Spin.ph.
The teen heartthrob also cleared his mother network ABS-CBN and his handlers from blame, saying they had nothing to do with his decision not to play for the Titans, who picked him during the 15th round of the recent D-League rookie draft.
[See Teen idol Daniel Padilla named to AMA Titans lineup in PBA D-League]
"Ang panget brad eh. Lalaro ako 'dun (D-League). Pero hindi tayo pang PBA o D-League. Hindi ko feel na na-earn ko ang paglalaro," he said.
But he did admit that playing in the PBA was his boyhood dream, although he was also the first to say that training and improving his basketball skills is next to impossible at this time owing to his hectic schedule.
"Hindi na talaga kakayanin ng schedule ko. Kaya naglalaro ako, hobby na lang. Pero 'yung talagang ensayo … wala, hindi ko na kakayanin," he said.
Continue reading below ↓
Recommended Videos
While he regrets that declining the D-League chance made his PBA dream even dimmer, Padilla said he doesn't mind since he felt he was included in the team not so much for his basketball stills but more for his popularity as an actor.
"(Ayokong tanggapin `yung position kasi) hindi ko naramdaman na kaya ako napasok dahil magaling ako. Ayaw ko… hindi ko pinag-trabahuhan eh," Padilla reiterated. "Parang pinasok lang ako sa team dahil artista ako."
"Gusto ko 'yung papasok ako dun, dahil magaling ako maglaro… hindi 'yung pinasok ako dahil (sikat ako) o ta-artits ako," added the son of actors Rommel Padilla and Karla Estrada.
"PBA … talagang pangarap ko din yan… noon pa man."
[See Daniel Padilla denies plan to play for AMA Titans in PBA D-League]
At the same time, Padilla said he's very much willing to talk to AMA officials about the situation since the teen sensation is both an endorser and student of the university.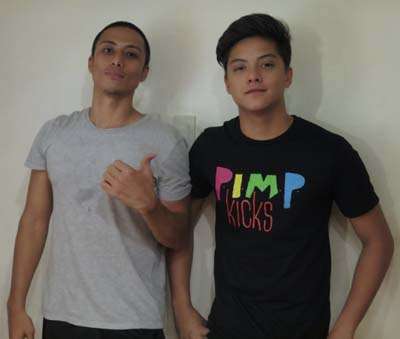 "Basketball 'yan eh. Lahat tayo gusto 'yan. Ako adik ako sa basketball… pero 'yung galing ko hindi para dun (sa D-League). Hindi ko kakayanin, tol," said the popular nephew of action superstar Robin Padilla.
The young actor from the famous Padilla clan in showbiz insisted he will continue to play basketball, but only for recreation.
"Pang hobby-hobby lang… Kahit isang laro dun… hindi ko kaya tol (D-League)," he told Spin.ph.
Meanwhile, Blackwater guard Paul Artadi, whose Pimp Kicks shoe shop has Padilla as one of its models, claimed the young actor is indeed, good enough to play in the D-League if he pours his heart into it.
"Marunong 'yan. Pwede sa D-League 'yan. Kaya lang kulang lang sa plyometrics at agility. Kaso hindi mo naman masisi kasi hindi naman siya talaga babad sa training," said Artadi.
"Magaling magdala ng bola 'yan. Saka shooter talaga. Mataas din tumalon, kasi 5-9 lang yan pero abot niya 'yung ring," he added.
Asked if the screen partner of charming Kathryn Bernardo can get far if he takes up basketball seriously, Artadi answered in the affirmative.
"Oo, pwede yan pre… Kailangan lang talaga ng ensayo. Pero mahilig talaga lumaro yan," he said.
Here's a podcast of the full interview with Padilla: