LONG breaks, like the one spanning the Holy Week, rarely occur when the PBA season is in full swing. And normally, players take this time to rest, reflect, bond with family, travel and maybe catch some version of penitensya on the road.
On this particular Holy Wednesday, though, SPIN.ph is witnessing a different kind of self-inflicted pain done for the greater good inside the 360 Pro gym in Mandaluyong: Barangay Ginebra's LA Tenorio and Greg Slaughter working out to achieve maximum athletic performance that help their team's chances when they hit the court.
They jumped over hurdles, executed pull-ups, squatted significant weight, and powered through dribbling drills crossed with resistance training. If that's not enough, they did fast waves with battle ropes coupled with jumping jacks and fast dribbling — leaving both gasping, huffing, panting, spent.
The other day, we were told, Jimmy Alapag was also in the gym, doing work, and scheduled to return the next day — Maundy Thursday at that.
And if you ask these guys, this is not in any means part of any panata, or a version of penitensya. This is required, essential part of the grind to be great.
"I always make sure I do extra work aside from practices. I make sure I work out at least twice a week during the PBA season and I try to do it three to four times a week in the offseason. It's just part of my routine," Tenorio said.
Continue reading below ↓
Recommended Videos
The 31-yeard old point guard is a firm believer in strength and conditioning since his basketball career started, explaining that it's his great equalizer. Other players will be bigger, taller, stronger, but he wants to make sure he's fitter.
"With my build and height, hindi ako makaka-keep up sa mga stronger or taller players sa akin, so kailangan ko talaga ito. It's really been a big help sa career ko and to help prevent injuries din," he said.
The 10-year veteran is no stranger to soreness and pain throughout his career but Tenorio credits his penchant for extra work as a buffer against the toll his body takes on the court.
"I think I'm the only active player who hasn't missed a single game since he started in the PBA. Hopefully, knock on wood, it will continue," shared Tenorio, indeed the Ironman of the current PBA crop with the second longest streak of consecutive games (unofficially at 428) behind record-holder Alvin Patrimonio (596).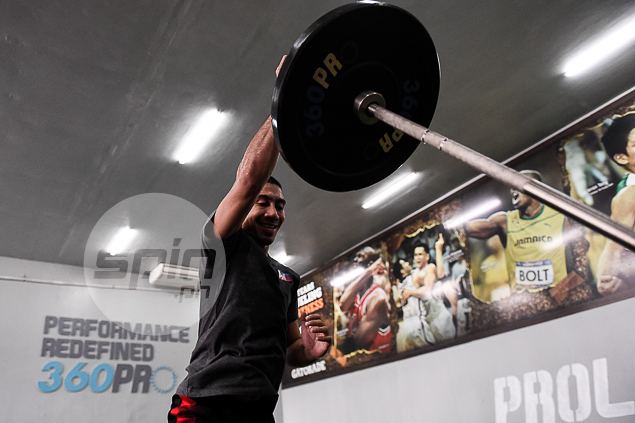 Teniente is still putting up solid numbers this Commissioner's Cup as well, avergaging 10.5 points and dishing out 5.3 assists per game while still playing heavy minutes (29.1). He says that all his extra workouts help keep his place among the league's elite.
"This is why I do strength and conditioning. I'm not getting any younger and may mga bata talaga na natural yung speed and strength nila and it's a big challenge for me. This kind of training helps to catch up with them."
It's also the kind of work ethic that got Slaughter, no slouch in the workout department either, intrigued in training with his Ironman teammate. The Fil-Am slotman does conditioning and skills work with coach Kirk Collier in the offseason. And in the past two months, he's been training under coach Chappy Callanta of 360 Pro along with Tenorio, learning like a sponge and seeing improvements in his strength, endurance, and his stability inside the shaded lane in the process.
"I went through different programs in Cebu, Gilas, and Ateneo and I learned that everyone you're competing against is working in their team practices. But not everyone's doing extra work and if you want an edge over everyone, you gotta do those workouts," Slaughter said.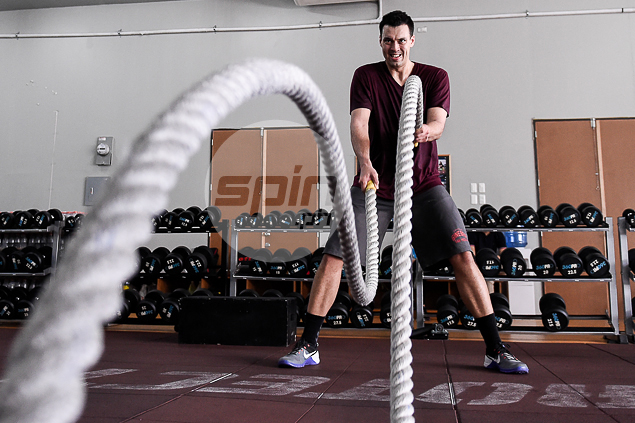 The peculiar thing with the Tenorio-Slaughter combo is that one usually goes for a gym buddy of the same build to be able to do identical workouts and maybe provide benchmarks for improvement. It's kind of unusual then, to see the 5-8 Tenorio work side by side with the 6-11 Slaughter. But their coach explains that despite the difference in body composition, their needs are in many ways similar.
"It doesn't matter if you're a big or a small man, you need the same foundations. It will be different for basketball specific moves but all of us need to do squat, hip-hinge, press, and pulling exercises," Callanta said.
The strength and conditioning specialist also makes sure that everything the two players do address their end goals. As he supervises their sessions, Callanta has observed that both Tenorio and Slaughter are heavily motivated in their workouts.
"With the way Greg works, he really wants to make his presence felt especially since he's going up against bigger imports this conference. He really felt the need to establish a stronger base," Callanta explained.
"Si LA naman, it's really longevity and at the end of his last game after hitting the game winner, you can see he still has a lot of energy and that's what he really wants," the soft-spoken trainer added.
While keeping up with the much quicker Tenorio in the gym is a tough task, Slaughter still relishes having the point guard as his gym buddy, feeling it's an opportunity for them to show their teammates that they're stepping up, serious as ever with where they want to take the team.
"Me and LA coming in here, we get to push each other and get in top shape as much as we can and it's great. We take that responsibility to do the extra work for the team. We always try to be at our best for Ginebra and for the national team preparations," Slaughter said.
Ginebra is on a team on the rise as the ongoing import-laden conference enters the playoffs and Tenorio and Slaughter are leading the way with big games for the PBA's most popular team.
Now you know why.