CHICAGO - Ball State University (BSU) is a public research university in Muncie, Indiana, a manufacturing and industrial hub nestled some 50 miles away from downtown Indianapolis.
Among the school's famous alumni include retired TV host David Letterman, John Schnatter of Papa John's Pizza chain, and Angela Ahrendts, former CEO of British icon Burberry and current VP at Apple.
Since joining the NCAA in the 1920-21 season, the BSU Cardinals have only seen four players drafted by the NBA, the last one was Bonzi Wells in 1998.
Franko House could have punched that fifth ticket .
Per Dakota Crawford of The Star Press, the 6-foot-6, 248-pound forward had the goods.
"He is athletic enough to switch every screen defensively. Offensively, he can be a match-up nightmare and his sharp passing comes into play when opponents double."
A two-sport star at Concord High in Elkhart, Indiana, House performed his potential and ended up with a distinguished four-year college career in which he appeared in 129 games and averaged 10.6 points, 5.7 rebounds and 2 assists per while shooting 51.2 percent from the field.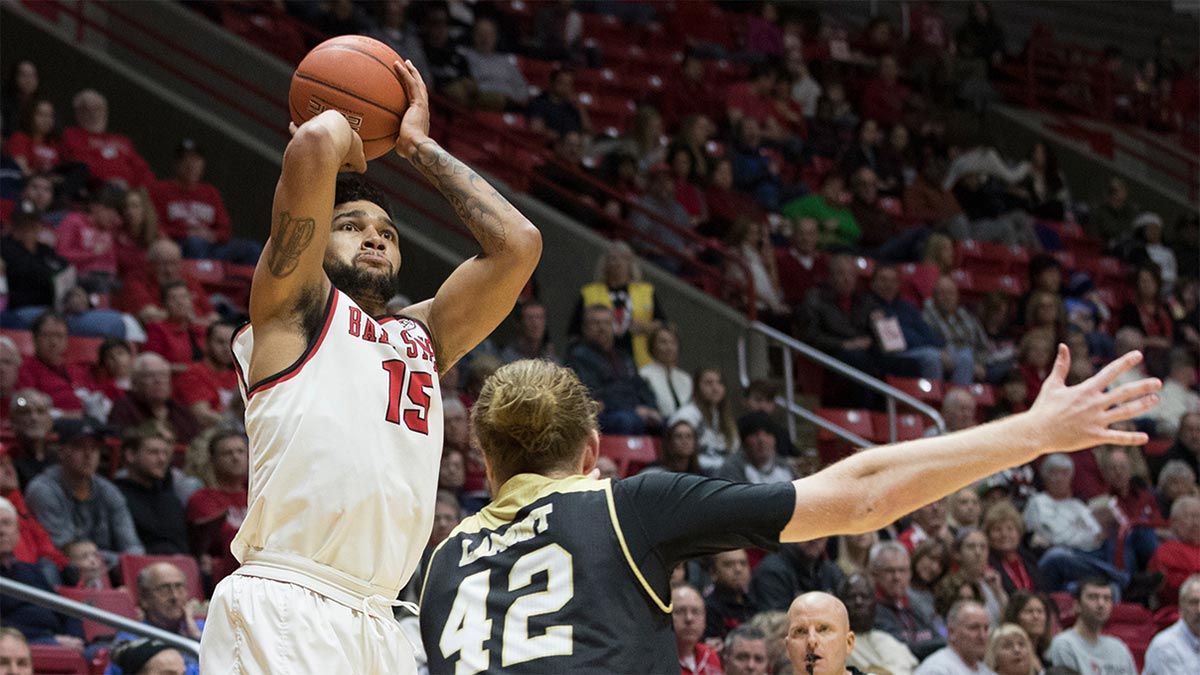 Continue reading below ↓
Recommended Videos
House was a two-time All-Mac (Mid-American Conference) selection. His 1,371 points total is 11th in program history while his rebounds (741) is seventh all-time.
When his college career ended in March 2017, House started getting calls from five NFL teams. Nimble and physically imposing, he was an attractive prospect for tight end, a position he played in high school.
Torn between football and hoops, he chose the NFL, saying it was "the better ticket" for him.
The pivot was hardly news to retired Concord High coach Tim Dawson who said, "it didn't surprise me that happened because he had that in the back of his mind and he had an opportunity. I always thought he was a better football player anyway."
At that point in his life, Franko had just become a father and he was about to marry his longtime girlfriend and the mother of his child, Morgan Jantzi. He needed the means to support his family and football provided that possible revenue stream.
NFL money is rich. Even those who get signed just for the practice squad gets paid $7,600 a week and up to $129,200 during the course of the league's 16-week season.
On May 2, 2017, the Chicago Bears signed House as "an experimental player with little risk attached," per USA Today. He was cut 29 days later.
So on the basketball, and House quickly picked up the pieces of his failed NFL dream and turned pro three months later by signing with the Landstede Hammers of the Dutch league in the Netherlands.
Next stop: Alaska Aces in the PBA.
"His work ethic, his drive and his competitive character are unparalleled. He didn't always say a lot but when he did he was like E.F. Hutton. When Franko said something, everyone listened," Cardinals head coach James Whitford told The Chicago Tribune in a May 3, 2017 story.
Given all that ails the Aces - the chaos of a replaced import, the challenging transition of a new head coach, and the headache of a 0-3 start - Franko House might just be the right prescription for Alaska.
HOUSE IS IN ORDER. Although listed at 6-foot-6 in his NCAA profile, Franko was officially measured at 6-foot-4 1/2 at the PBA office on Thursday.
House graduated at Ball State with a degree in general studies and a double minor in coaching and foundations of management.
He and his wife Morgan have matching tattoos on their forearms. Here's how Ballstatedaily described it.
"An ink clock on House's arm shows the time he was born. It's surrounded by roses --- the birth flower for June - a "C" for Carter and a dove signifying endless love. On Morgan Jantzi's arm, a rose is covered with two ribbons, the top one bears their son's name and the bottom one reads "VI-XX-XVI" -- Carter's birth date in Roman numerals."