OLA Adeogun had the last say in a Twitter word war with De La Salle big man Ben Mbala at the end of their physical series in the Philippine Collegiate Champions League on Monday.
The San Beda big man had 19 points on Monday in the Red Lions' 73-66 win over De La Salle to win the MVP award. More importantly, the Nigerian lifted the Red Lions to their first-ever PCCL title after outplaying Mbala in Game Two at the end of their battle of the giants.
Playing his first tournament with La Salle after his celebrated transfer from Southwestern University, Mbala had a respectable 10 points and 12 rebounds in Game Two against Adeogun. But the Cameroonian was held scoreless in the first half as the Green Archers fell short of winning their second straight PCCL crown.
In Game One, Mbala finished with a game-high 26 points and 14 rebounds but Adeogun scored the crucial points in the end to lift San Beda to an 88-81 win in the series opener.
The championship proved extra sweet for Adeogun, who, after San Beda's Game One win, took exception to a tweet by Mbala saying the Green Archers "SBC can get game 1 but can expect no sympathy or mercy for the last 2 games (of the finals)."
Continue reading below ↓
Recommended Videos
"Parang tsamba lang ang panalo namin ah, kawawa naman kami sa game 2," Adeogun later tweeted.
In the hours leading up to Game Two, Mbala put down one final word in a tweet in which he addressed the Red Lions as 'pink cats.'
No wonder Adeogun almost immediately relished putting out a response the moment the Red Lions completed a sweep of the Green Archers in the finals.
Here's his tweet: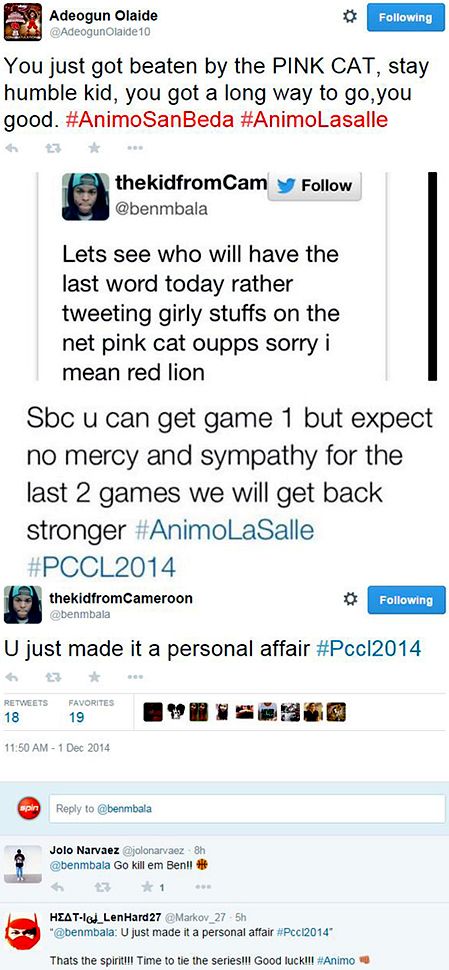 A dominant in the NCAA and other leagues, Adeogun later admitted to Spin.ph he was challenged by the match-up against Mbala, who is being tagged as the 'next big thing' among the current crop of foreign players.
"Siyempre, na-challenge ako. Basketball player ako. Magaling talaga siya. I just try to go out there and stick with the team system," said Adeogun.
Adeogun said he himself is amazed as to how athletic and strong Mbala but added that the Cameroonian still has room for improvement.
"Mag-iimprove pa siya. He is really good. He has to be more patient and play more with his team and they will be successful," Adeogun said.
Adeogun said he was able to talk to a disappointed Mbala after the Red Lions swept the Green Archers.
"Sabi ko sa kanya, magaling talaga siya and just keep working. It's just basketball. You win some, you lose some," said Adeogun.