CEBU CITY – In talking about the program of Nike's first-ever reality documentary basketball program called 'Rise,' its head coach Chot Reyes likened the nationwide search to looking for "diamonds in the rough."
In Cebu, he may just have uncovered two gems, each one worthy of ascension to the program's final 24 – point guard Jair Borne Marabe, 17, and 19-year old two-guard Jude Luke Bulan.
The two were part of the 167-strong contingent that trooped to the Cebu City Sports Institute on Saturday to take part in the Cebu tryouts, the third leg of the search for players worthy of being taken to the House of Rise and gifted with top-notch training from some of the best mentors in the country led by Reyes and his assistant coach, PBA great Jimmy Alapag.
Marabe, a well-built and athletic guard, stood out early on as he took on the various drills put forth by Rise's battery of assistants with both aggression and precision. But Spin.ph soon learned that there was more to the aspirant's story than meets the eye.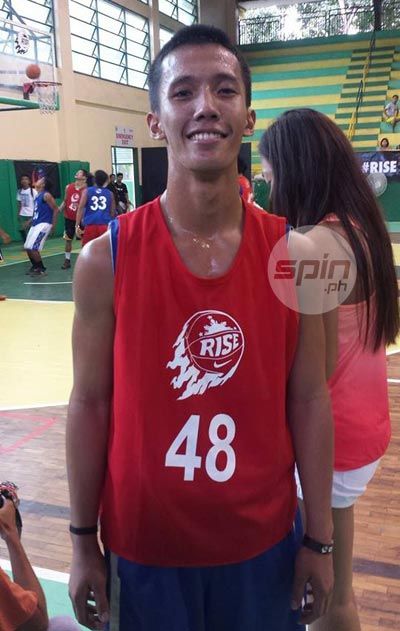 Continue reading below ↓
Recommended Videos
Marabe actually hails from Tacloban, a place ravaged by Typhoon Yolanda a few years back. Like most from the region, Marabe and his family lost everything they had and currently live in bunkhouses.
"We really had nothing left. We had to start from zero. I didn't have anything left, not even my shoes," shared Marabe.
But that did little to deter Marabe from pursuing his passion for the sport, thanks to his coach Jerry Abuyabor.
"I learned how to play the game the right way from coach Jerry (Abuyabor). Even when we were living in bunkhouses, we found a way to play the game," Marabe continued.
Now in Cebu where he goes to the University of Cebu on a scholarship, Marabe hopes to make the final cut and continue to improve on his game.
"I need to improve on my ball-handling, my shooting and my decision-making skills."
Bulan, on the other hand, showcased a more polished game owing to his time with the University of San Carlos Baby Warriors where he flourished in 2012 and was named a high-school all star in the Cebu Schools Athletic Foundation Inc. (Cesafi).
But like Marabe, the 6-foot wingman hopes to soar to new heights and rejuvenate a stalled career through Nike's ambitious program.
"I was recruited to be part of the college team after I graduated in high school but they changed coaches and I guess I was left out of the loop. Fortunately, I was able to play in the school's intramurals and did well. But I'm still hoping for more and I hope I make it here," Bulan said.
Nike Rise is making its final stop in Davao on Sunday before Reyes, his assistant coaches and Nike's brass meet this week to finalize the cast for Nike Rise.
Both Marabe and Bulan are keeping their fingers crossed.