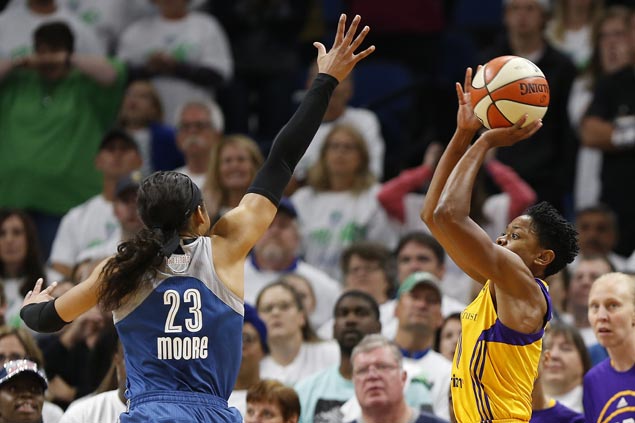 MINNEAPOLIS — Alana Beard hit a jumper from the baseline just before time expired to lift the Los Angeles Sparks to a 78-76 victory over the defending champion Minnesota Lynx in Game 1 of the WNBA Finals on Sunday (Monday Manila time).
With the defense collapsing on Candace Parker and Nneka Ogwumike in the paint, Beard found herself all alone in the corner. She took the pass from Chelsea Gray and knocked down the jumper with Maya Moore in her face.
As the ball splashed through, Moore put her head in her hands and the Sparks celebrated a thrilling victory, their second on Minnesota's court this season.
"You may not recognize the importance of her statistically for us a lot of times," Sparks coach Brian Agler said. "But her presence, her leadership, obviously how disruptive she can be defensively, and then for her to hit a shot like that, it was incredible."
Kristi Toliver scored 19 points to lead Los Angeles and Parker had 14 points and nine rebounds in her finals debut. League MVP Ogwumike added 19 points for the Sparks in the opener of the best-of-five series.
Sylvia Fowles had 18 points and 13 rebounds and Lindsay Whalen scored 18 points for top-seeded Minnesota. Moore scored all 18 of her points in the second half to move into first place on the WNBA's career finals scoring list, but the Lynx committed 16 turnovers and got caught scrambling on the final possession of the game.
"I think we were more worried about not letting anyone get to the hole," Fowles said. "I'm not sure exactly what happened on that last play to make her get wide open. But we learned from this."
Game 2 is on Tuesday in Minneapolis.