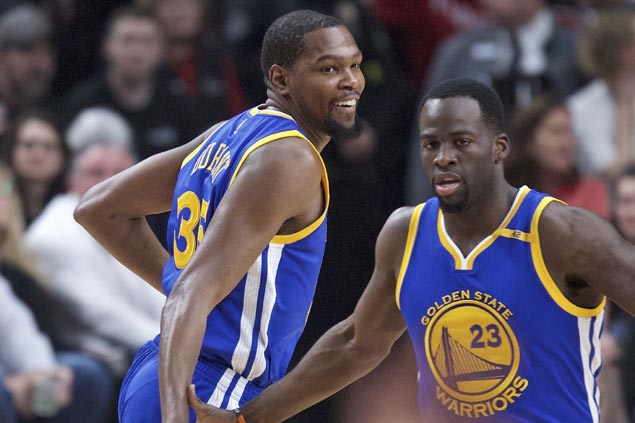 PORTLAND, Oregon — Long after the Trail Blazers had left their court, many of Golden State's players celebrated on the floor at the Moda Center to the delight of a rather large contingent of yellow-clad fans who chanted "War-ri-ors! War-ri-ors!"
The first-round sweep was sweet, even in Portland's house.
Stephen Curry scored 37 points as Golden State beat the Blazers 128-103 on Monday night (Tuesday, Manila time) to advance to the conference semifinals. The Warriors will face the winner of the series between the Utah Jazz and the Los Angeles Clippers, which is tied at 2.
Golden State was energized despite playing for the second straight game without coach Steve Kerr, who has been experiencing a flare-up of symptoms stemming from back surgery a couple of years ago. Assistant Mike Brown has served as head coach in Kerr's absence.
But the Warriors saw the return of forward Kevin Durant, who hadn't played since Game 1 because of a strained left calf. He started and the Warriors built a 72-48 lead by the end of the opening half.
Golden State pushed the margin to 33 points in the second half. Curry swished a 31-foot 3-pointer that made it 104-77 late in the third quarter and the Blazers couldn't catch up.
Durant finished with 10 points in just under 21 minutes. All of Golden State's starters were in double figures.
"That was unbelievable. Our guys were locked in on both ends of the floor. I wish I could say this one thing or that one thing was really good but everything we tried to do, we tried to do it on a high level," Brown said. "It was fun to watch. Fun to be a part of."
Damian Lillard scored 34 points for the Blazers, who were making their fourth straight appearance in the playoffs. The crowd at the Moda Center gave Lillard a standing ovation when he came out with 6:12 to play.
ADVERTISEMENT - CONTINUE READING BELOW
The Warriors jumped out to a 14-0 lead at the start. Durant's dunk extended the lead to 22-3 and the rout was on. JaVale McGee made a highlight-reel alley-oop dunk in route to a 45-22 lead after the opening quarter.
"We knew if we threw the first punch, we knew that it would overwhelm them a bit, especially being up 3-0," Durant said.
It was the most points ever in a quarter for Golden State in a playoff game and matched the NBA record for most first-quarter points in a playoff game.
"We're very confident about who we are and how we're going to be successful," Curry said.