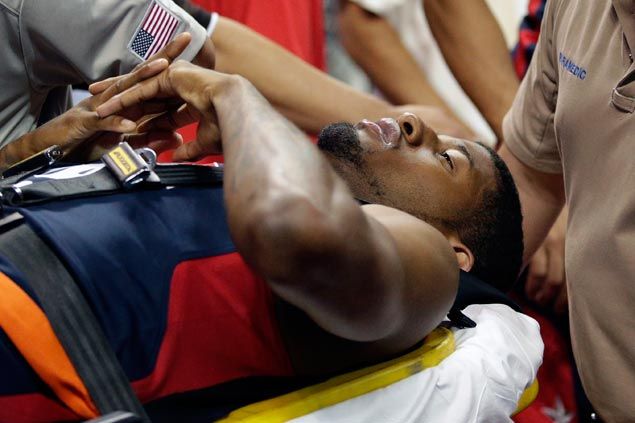 LAS VEGAS — Indiana Pacers All-Star Paul George suffered a gruesome right leg injury late in the US national team's intrasquad scrimmage Friday night (Saturday, Manila time).
George leaped to contest a fast-break layup by James Harden with 9:33 left in the fourth quarter and his leg smashed against the bottom of the backboard stanchion and crumpled.
Trainers immediately ran onto the floor and after roughly 10 minutes of stoppage, George was taken out of the arena on a stretcher. With players looking visibly upset, coach Mike Krzyzewski then announced to the crowd that the scrimmage would not be finished out of respect to George and his family.
"This is a first for us in USA Basketball, to have something like this take place," USA Basketball chairman Jerry Colangelo said. "It's a tough situation for our entire organization, the coaches, the players. Very, very emotional. There's no way the game could have gone on under the circumstances."
The White team led George's Blue team, 81-71.
"We got all the players together, Jerry addressed them and then I did. Very emotional setting," Krzyzewski said. "There's a brotherhood in the NBA and to me at moments like this family or brotherhood shows its heart, it shows its depth, and that's what I thought our players showed during that time."
George was considered a lock to make the final 12-man roster for the World Cup of Basketball that starts later this month in Spain.
"Thanks everybody for the love and support," he wrote on Twitter. "I'll be ok and be back better than ever!!! Love y'all!!"
The Americans planned to reduce the 20-play pool to 14 or 15 players Saturday, but put off those plans after George's injury.
"Everything's on hold right and it should be," Krzyzewski said. "It would be so inappropriate for us to talk about anything else when there's a serious injury like this."
ADVERTISEMENT - CONTINUE READING BELOW
The defending champion US team had already been weakened by player losses. Forwards Kevin Love, Blake Griffin, LaMarcus Aldridge and NBA Finals MVP Kawhi Leonard had all pulled out in recent weeks.