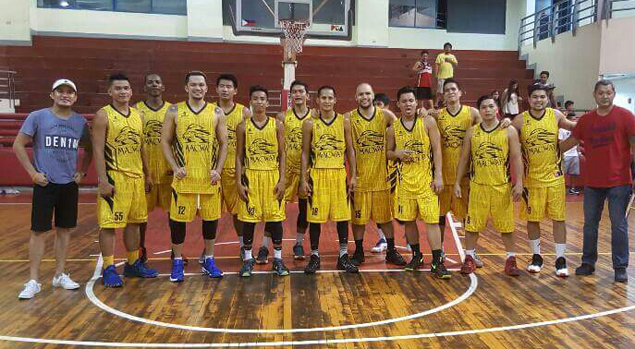 DEFENDING champion Macway Travel Club and Wang's Ballclub scored big wins to boost their semifinal chances in the 2016 MBL Open basketball tournament at the EAC Sport Center in Ermita, Manila.     
Former PBA mainstays Bonbon Custodio, Jeff Sanders and Larry Rodriguez led the way as Macway rallied to beat Philippine Air Force, 100-94, for a 3-2 win-loss card.
Jeff Tayongtong scored all but one of his 14 points in the fourth quarter to power Wang's Ballclub to a come-from-behind 102-98 win over erstwhile unbeaten Emilio Aguinaldo College.
Custodio, who played for San Miguel Beer and three other teams in five seasons in the PBA, scored 23 points for Macway.
Sanders, who  had a brief stint with Ginebra in 2003, added 16 points while Rodriguez, who saw action for Rain or Shine, contributed 13 points for Macway.
American player Mike Harry also finished with 16 points for Macway, which snapped a two-game skid.
Rama Krishna Morales led Air Force with 19 points, Darwin Cordero added 17, Paulino Rebollos chipped in with 13 and Jake Diwa had 12 markers. Air Force dropped to 2-2.
Wang's Ballclub was led by former National University player Cedric Labing-Isa and ex-Mapua star Mark Brana to win for the second time and deal EAC its first loss in four games.
Labing-Isa fired 18 points and Brana scored 16 to power Wangs to victory.
Tayongtong, a former EAC player himself, led the way against his former team with 13 fourth-quarter points.
Jerome Garcia  led the Generals with 25 points, including 20 in the second half, while Juju Bautista and Jethro Mendoza had 19 points each.
 
The scores
First game
Wang's Ballclub 102 — Labing-Isa 18, Brana 16, Tayongtong 14, Gomez 13, Lasco 12, Publico 11, Acosta 8, Sanga 5, Banal 3, King 2, Juruena 0.
EAC 98 — Garcia 25, Bautista 19, J.Mendoza 19, Diego 10, Bugarin 7, N.Mendoza 5, Altiche 5, Estacio 4, Gonzales 4, Natividad 0.
Quarterscores: Â 20-23; 44-46; 70-79; 102-98.
 
Second game
Macway 100 — Custodio 23, Sanders 16, Harry 16, Rodriguez 13, Marquez 8, Fampulme 7, Dedicatoria 6, Natividad 4, Santiago 3,  Sta Cruz 2, Laude 2, Mangaran 0, Reyes 0, Espinosa 0.
ADVERTISEMENT - CONTINUE READING BELOW
Air Force 94 — Morales 19, Cordero 17, Rebollos 13, Diwa 12, Ollano 8, Lumongsod 7, Tano 6, Casulla 6, Malig-On 4, Almerol 2, Regalado 0.
Quarterscores: 29-27; 50-58; 75-72; 100-94.