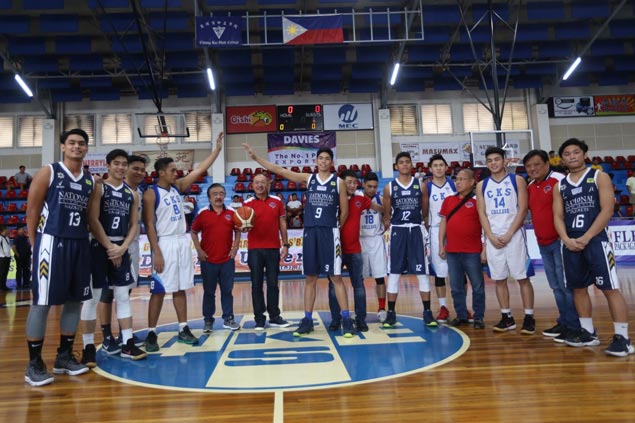 NCAA titlist La Salle-Greenhills dodged the upset axe, edging San Sebastian, 71-70, in the 6th PSSBC Dickies Underwear Cup on Saturday at the SGS Stadium in Quezon City.
Vincent David tallied a team-high 15 points, including the go-ahead free throw with 14 ticks left, while ace guard Joel Cagulangin came up with a crucial steal in the closing seconds for La Salle-Greenhills.
"We kind of got lucky with the win," said Greenies coach Marvin Bienvenida. "Just like what we encountered in the NCAA Finals last month, it all boiled down on making the necessary defensive stops."
Defending CESAFI champion University of Visayas pulled the rug from under fancied Mapua Red Robins, 89-78.
Jancork Cabahug had 21 points, 14 rebounds and three blocks for UV, which played inspired basketball right from the get-go, thanks to the presence of their fellow Cebuanos and current PBA players JR Quiñahan and Brian Heruela.
Former champions Chiang Kai Shek College and San Beda also came out victorious on the opening day of the six-day tourney which has Rudy Yu of Dickies Underwear as the league chairman.
CKSC, the 2015 titleholder, made quick work of Letran, 81-65, in Group B while San Beda, the 2014 champion, overcame a tough stand by Manila Patriotic School, 89-78, in Group A.
Evan Agbong had a double-double of 15 points and 10 rebounds while four other teammates added at least 11 points each for the Blue Dragons, who led by as many as 17 points in the final period.
Big man Sam Abuhijeh tallied a team-high 20 points while crafty guard Evan Nelle collected 12 points, nine assists and six rebounds to help the Red Cubs find their groove in the second half after a lackluster start in the tournament supported by Choi Garden, Davies Paints, Cherrylume Roofing, Sumo GI Sheets, Molten and Masumax Food Supplement, Hapee Toothpaste owner Dr. Cecilio Pedro, Blackwater's Dioceldo Sy, Freego Jeans' Eduard Tio, Terry Que of Poly Gloss and Rain or Shine, Che Lu Bar & Grill's Jimmy Dela Cruz, MEC Computers' Leoncio Chua and Ironcon Builder's Jimi Lim.