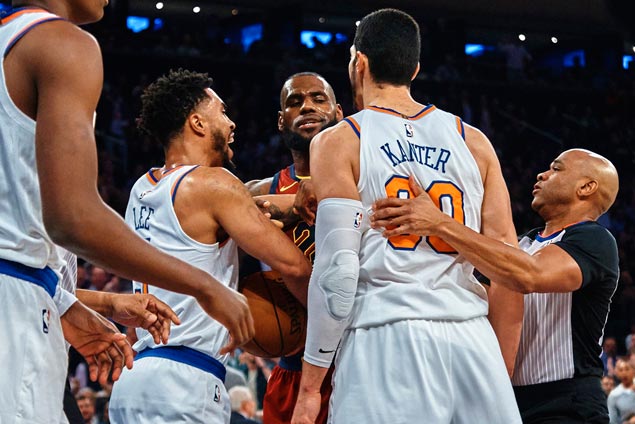 THE NBA game between the Cleveland Cavaliers and the hometown New York Knicks got a bit too physical - and the word war didn't let up long after the game ended.
Enes Kanter had choice words for LeBron James and the Cavs star gave a dismissive response after the two got into a face-to-face shouting match in their game at Madison Square Garden.
Kanter actually stood up for rookie teammate Frank Ntilikina, who bumped James hard after the former league MVP got in his way while trying to do the inbound.
The Cavs battled back from 23 points down to deal the Knicks a heartbreaking 104-101 loss on Tuesday (Manila time), but that hardly silenced the Knicks' newly acquired big man from Turkey.
"I don't care who you are, I don't care what you call yourself - King, Queen, Princess - you know what, we're gonna fight and nobody out there (is) going to punk us," Kanter said.
James didn't let Kanter's words pass without a jab.
"I'm the king, my wife is the queen and my daughter is the princess so we got all three covered." he told mediamen gathered outside the Cavaliers' dugout.
The Cavs forward then took one more shot at former Knicks president Phil Jackson while praising the team's new coach Jeff Hornacek. 
"I think Jeff, the coach, Jeff Hornacek is finally (smiles), with the release of the old fella, he's finally allowed to implement what he wants to do on the team and he's showing it's very effective."
Even the Ntilikina incident is not without history.
Before the game, James told New York media that his belief that the Knicks should have drafted Dennis Smith Jr. wasn't meant to slight Ntilikina, though it was intended as a swipe at Jackson.
"Oh yeah, it was definitely a shot at him," James said Monday. "That's for sure."
James said on Sunday after playing in Dallas that Smith should be a Knick. New York took Ntilikina with the No. 8 pick in the June draft, one spot before the Mavericks selected Smith.
James said he's known Smith since the former North Carolina State point guard was 13 or 14 years old and that they had trained together. He knows only a little about Ntilikina, a teenager from France who had played overseas with one of James' friends from Ohio.
Last offseason, Jackson had said the Knicks needed a point guard, either through the draft or free agency, and James figured they could do no better than taking Smith to play with Kristaps Porzingis. He compared his comments to his thoughts that the Cleveland Browns should have drafted quarterback Deshaun Watson with the No. 1 pick, saying that doesn't mean Myles Garrett won't become a top defensive player.
ADVERTISEMENT - CONTINUE READING BELOW
"Like I said, it's no shade at Frank. I don't even know the kid," James said at the Cavaliers' shootaround before their game against the Knicks. "I wasn't even thinking about the kid when I was talking about Dennis Smith. I was thinking about the Knicks organization and Phil Jackson at the time and Dennis Smith's talent and Porzingis."
Jackson selected Ntilikina, but that was about the last thing he did as team president, as he and the organization parted ways at the end of June. He had angered James during his three years running the Knicks when he referred to James' friends and business partners as a "posse."
"I'm not a Phil Jackson fan, I think you guys already know that," James said. "That's the past. He's not even here anymore."