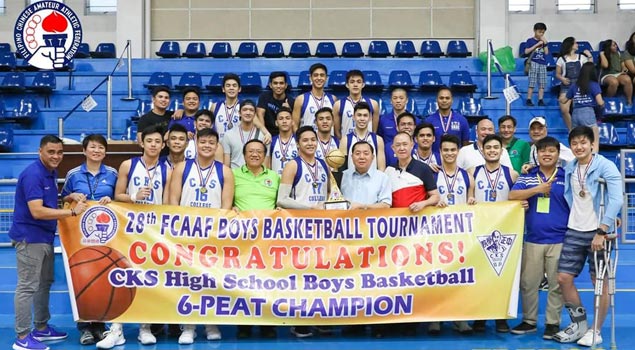 CHIANG Kai Shek College extended its reign in Group A of the Filipino-Chinese Amateur Athletic Federation to six years after beating Hope Christian High school, 60-38, at CKSC gym in Manila.
With Joshua Ramirez, John Galinato and Jason Celis scoring 13 each, the CKSC Blue Dragons cruised to victory to complete a nine-game sweep of the tournament.
It was a double celebration for CKSC as its Developmental team also annexed its sixth straight championship with 65-56 drubbing of St. Stephen High School, with Calvin Villanueva scoring 23.
Sweet-shooting Joshua Jugar exploded for 28 points, Carl Chan scored 16 and Martilon Lu added 13 as Philippine Chen Kuang High defeated Grace Christian College, 73-68, in Group B of the tournament backed by Freego with Boy de Vera as commissioner and Edster Sy as head of digital marketing.
For advancing to the final, both PCKHS and GCC, according to league chairman Daniel Ong, will be elevated to Group A next year. Manila Patriotic School will join Chiang Kai Shek and Hope Christian in the PSSBC Battle of Champions set in December.