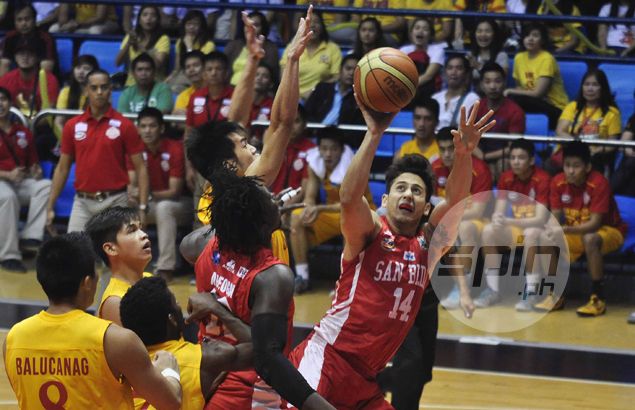 SAN Beda vented its ire on San Sebastian, coasting to a 75-56 victory on Friday to get back on the winning track in the NCAA men's basketball tournament at The Arena in San Juan.
Eager to bounce back from their first loss of the tournament in a 76-83 decision at the hands of College of St. Benilde, the Red Lions dominated from the start to finish against the Golden Stags en route to notching their sixth win in seven games.
"The result of this game proves the character of this team," said Lions coach Boyet Fernandez, whose team is gunning for a fifth straight championship and eighth in the last nine years in the country's oldest collegiate league.
The Lions, who maintained their grip on the top spot, also dealt the Stags their third straight loss and fourth overall against three losses, dropping them to seventh place.
Anthony Semerad continued to be a threat from long range, tallying a game-high 19 points, embellished by three triples, while Ola Adeogun left his imprint all-game long, scattering 12 points, 13 boards, and a league-high six blocks.
Baser Amer didn't even have to bring his A-game as the Lions star playmaker had an off-game, missing all but one of his six shots in 29 minutes, yet it hardly mattered for the defending champions, who were on the driver's seat throughout.
The Lions' cushion ballooned to as many as 32 points, 50-18, after nine unanswered points, capped by a three-point play from Art dela Cruz, who finished with 14 points and nine boards on top of two assists and one steal.
The Stags tried to make a final push in the final frame as they cut the deficit to just 14, 51-65 after a Jovit dela Cruz floater with five minutes and 26 left, but rookie Lion Radge Tongco had an answer to every run, scoring all but two of his 12 points in the fourth to keep the Stags at bay.
The Lions were so dominant that they would've still won even if they hadn't scored in the fourth quarter.
The scores:
SBC 75 – A. Semerad 19, Dela Cruz 14, Adeogun 12, Tongco 12, Koga 6, Mocon 4, Amer 3, Mendoza 3, Pascual 2, Cabanag 0, Sara 0, D. Semerad 0
SSC 56 – Perez 13, Guinto 10, Dela Cruz 7, Yong 6, Balucanag 4, Calisaan 4, Ortuoste 4, Camasura 3, Pretta 3, Fabian 2, Costelo 0, Aquino 0, Mercado 0
Quarterscores: 27-7, 38-16, 59-36, 75-56