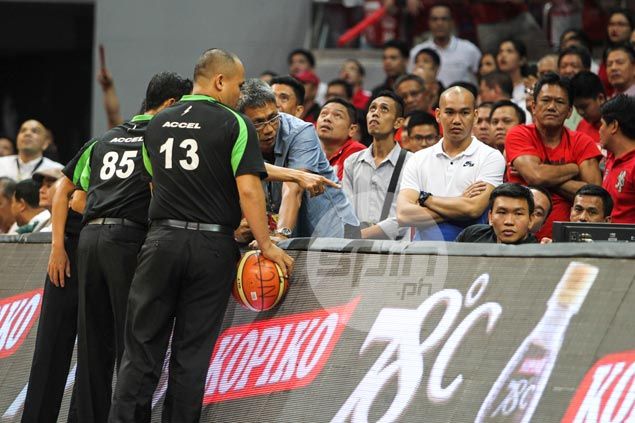 THE controversial end to Game Three of the NCAA Finals betwen Letran and San Beda has sparked a debate on the Fiba rule on double lane violations, with not a few calling for changes in the way college leagues apply it.
At the center of the controversy is a double lane violation called by the referees on Letran's McJour Luib and San Beda's Art Dela Cruz after Knights center Jomari Sollano missed the second of his free throws with 6 seconds left and the Knights leading by a point, 83-82.
Under Fiba rules which the NCAA adheres to, ball possession after such violations is decided not through a jump ball but through 'alternating possession' or, in layman's terms, possession arrows.
That single rule worked to Letran's advantage since the possession arrow was in their favor. Knights senior guard Mark Cruz ended up making the two free throws that sealed Letran's 85-82 overtime victory - and the school's first NCAA championship in a decade.
The furor, however, did not end there.
Just moments after the loss, San Beda team manager Jude Roque, apparently fuming over that crucial call, tweeted that the 'refs made sure the NCAA sees a new champion,' claiming bias in the way the referees called the game.
In a column he wrote for the Manila Times on Monday, Roque remained firm in his stand that the referees wrongly interpreted the rule on such infractions, saying ball possession should've been awarded to the Red Lions since Luib prematurely entered the shaded lane well ahead of Dela Cruz.
[See Roque insists double lane violation call wrong]
However, veteran officials whose views Spin.ph gathered, among them NCAA commissioner Bai Cristobal and NCAA technical supervisor Romy Guevarra, said the referees were right to call a jump ball in the play - and later award the ball to the Knights based on the possession arrow.
ADVERTISEMENT - CONTINUE READING BELOW
They simply pointed to a line in Section 43.3.3 of the 2014 Fiba rules which states that in cases where players from both teams committed a lane violation "on the last or only free throw, a jump ball situation occurs."
"It was the correct call," said Guevarra, a former international referee who served as the technical supervisor of the PBA for 14 years. He added that a review of the game tape showed that it was not only Dela Cruz but also another San Beda player who committed an infraction by going inside the three-point arc before Sollano could shoot his free throw. 
University of the Philippines assistant coach Allan Gregorio, who called Game Three for ABS-CBN Sports, also believed that the referees, particularly Nestor Sambrano, made the correct decision.
"There is a single lane violation and a double lane violation. Obviously, that was a double lane violation. Puwede bang i-let go ni Nestor Sambrano? I'm not the lawyer of Nestor Sambrano pero I give it to him for calling that because it was really quite obvious na hindi pa tumitira, nagkakagulo na sa lane," he said.
"Regardless if (there is) one second (left or) if it's the start of the ballgame, that violation is a violation and it had to be called," said Gregorio.
Cristobal, on the other hand, said all 10 league teams have been briefed about the rule on double lane violations prior to the season, and were even warmed that such violation should be avoided.
"Umikot ako sa 10 eskwela tapos nagkaroon kami ng orientation sa Mapua, lahat ng coaches nandoon. Inexplain namin 'yun, what is a double lane violation, (na) huwag kayo sumama (when a rival player enters the shaded lane prematurely before a free throw)," Cristobal said.
Guevarra also shot down the Roque claim that ball possession should have been awarded to San Beda since Luib entered the lane ahead of Dela Cruz.
ADVERTISEMENT - CONTINUE READING BELOW
There was another opinion put forward that the referees should have stopped Sollano from taking the free throw and reset the play the moment Luib entered the lane prematurely, a position likewise debunked by Guevarra who said that it was not an option under Fiba rules.
However, the controversy took on a new dimension when Letran players admitted they were very much aware of the consequences of the double lane violation rule and had actually baited San Beda players - in this case Dela Cruz - into committing the infraction, knowing the possession arrow was in their favor.
Their reasoning was, Sollano's free throw would still be counted even if Luib is called for a lane violation. And granting that he missed, the ball would simply be awarded to the Red Lions who were expected to win the rebound anyway.
That admission has led to an accusation from Roque that the tactic was not 'within the spirit of the rules' as he called for a review of the rules on such infractions.
Other coaches agreed, saying the double lane violation rule plus the possession arrow system leave an opening which teams can exploit to their advantage in tight games, as Letran did in Game Three.
Gregorio said he favors a shift to a house rule that used to be applied in the UAAP, where all double lane violations committed inside a game's final two minutes were followed by a jump ball.
"That is fair para hindi magamit ng mga teams 'yung possession arrow (to their advantage)," he said. "Hindi puwedeng gawing advantage 'yung ganun. How can one violation go to the advantage of one team through the possession arrow when two teams committed a violation?"
Guevarra said he is also in favor of such a rule being put in place in the NCAA in the future. However, the veteran official pointed out that the house rule was dropped by the UAAP itself this season when the league decided to adhere to Fiba rules point for point.
ADVERTISEMENT - CONTINUE READING BELOW
"Gusto nila strictly Fiba rules na lahat ang maga-apply sa liga," Guevarra said.
For his part, Cristobal said he doesn't believe that the double lane violation is advantageous to any team, since all the player needs to do is not enter the lane when a rival player makes such a violation.
"Walang advantage diyan. Huwag ka lang sumama," Cristobal insisted.
Guevarra, 79, said that if there is one lesson that can be learned from the controversy, it is that players should be very much aware of the rules and their consequences during games.
"Dapat aware sila palagi," he said.