THE thinking man's point guard has finally crossed over into the head-coaching ranks after years of making it a point not to accept any offers, lucrative as they may have been, that were tossed his way.
To my mind, he could just as easily have been the PBA's third playing-coach after Robert Jaworski and Ramon Fernandez, but as that opportunity did not present itself, there was no telling how he could've done.
"It never entered my mind. Who knows how I would have done? Playing assistant lang talaga siguro, which was what was given to me by Eric (Altamirano) and Ryan (Gregorio), who felt they needed someone else to help them in 2001," said Magsanoc of his last few years as an active pro.
So after a sterling 15-year pro career which ended in 2002, most of them with the Shell franchise but having brief stops before retirement at Sta. Lucia and Purefoods, he transitioned to become a broadcaster not a year after he formally retired.
It was a logical next step for the man anchorman extraordinaire Joe Cantada dubbed as the Point Laureate to move from directing plays on the hardcourt to sharing his knowledge with both the viewers and the next generation of players. Until this year, when he finally gave in after all this time to take the head-coaching job of San Beda, where he had been a high school star under the legendary Ato Badolato.
Continue reading below ↓
Recommended Videos
So do you see yourself doing this for a long time or are you just filling in for the two years that former head coach Frankie Lim will be suspended?
"That's a good question. I myself don't know, all I know is that I'm here to serve the team, the school I grew up in right now," said one of the PBA's all-time greats.
Yes, it took this long for Magsanoc to accept a head-coaching position even though his name had been linked to most every head-coaching job available in the last five years, whether it be in the defunct Philippine Basketball League, his alma mater the University of the Philippines which has had a carousel of coaches in the last decade, other colleges and universities as well as high-profile high school teams. Why indeed the long wait?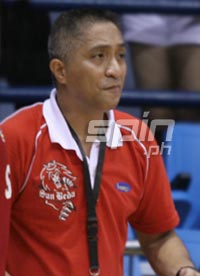 "Three reasons basically, and these were my daughters," said Magsanoc, who had been married to wife Bing for more than 20 years now. "I wanted to focus my attention on them when they were growing up and being a head coach takes so much time. Ngayon, malaki-laki na sila and they are more independent so the timing was right for this new challenge."
And yes, there is heavy pressure which accompanies this job. The Red Lions have won four of the last five stagings of the NCAA, first with Koy Banal in 2007, and then with Lim in 2008, 2010 and last year, before those fateful events earlier this year at the St. Placid Gym inside the Mendiola campus of San Beda.
Pressure from the school, students and alumni, who expect him to continue with the team's winning tradition, even while most of the NCAA teams have improved their lineups to derail the Bedan Express.
"The challenge is there as the teams have really improved compared to year's past," said the fledgling bench tactician. "As for the expectations, I don't have any control over that. I can only impart what I know to these players, hope they absorb what I have to share instead of just hearing them, and we should be fine."
This year, the Red Lions got off to a rip-roaring start by beating Arellano in their first game of the season despite playing with only six men, a feat that their head coach said was a truly memorable welcome game for him. They followed this up with a workmanlike dispatching of Lyceum (whose athletic director is Magsanoc's old Shell trainer/coach Hercules Callanta) and then they got waylaid by University of Perpetual Help System Dalta in overtime despite Baser Amer's regulation heroics.
"It was not complacency, but it was certainly an eye-opener for us. We sat down and analyzed things and came to the conclusion that even though most of my players have championship experience, most of them – with the possible exception of Jake – were not used to being in the role of main men or key players," said the coach.
They did rebound nicely after the loss, beating the CSB Blazers with some fine team play down the stretch then unleashing the full might of their complete lineup with 6-8 Nigerian Ola Adeogun making his debut in an easy win over the EAC Generals. So does this mean, the team will now be favorite to take the Season 88 crown?
"Yes, I feel we're in a good position now. That abilty to bounce back after a loss was something we could not learn during the offseason and should serve us in good stead when the competition becomes tougher," said Magsanoc. "I just want us to be among the top teams headed into the playoffs and we will take it from there."