A LARGE number of Filipinos migrate to the US annually in search of opportunities. American Sudan Daniel went to the Philippines and found his land of opportunity.
The former San Beda Red Lion and NCAA MVP is a picture of a fulfilled man these days in his adopted country, where he found the chance to play basketball, get an education, and now enjoy a career.
The Los Angeles native is currently one of the executives of the Titan Group, a growing chain of shoes and apparel outlets headed by former PBA player Jeffrey Cariaso.
And he's understandably happy to still be around basketball, long after his playing career was over.
"I'm still pretty much around the Filipino basketball scene, try to do whatever. At this point, it's not on a playing standpoint but just to give back and give any insight that I can," said Daniel in an interview with SPIN.ph.
Daniel came in at a time when foreigners were starting to be recruited to reinforce school teams - a practice that has become very common now in the country's various college leagues, and has since become a contentious issue.
Daniel joined San Beda starting in 2009 following the graduation of Sam Ekwe. The next year, Daniel led the Red Lions to an 18-0 sweep of the 2010 NCAA tournament, in the process bagging the season and Finals MVP awards.
Continue reading below ↓
Recommended Videos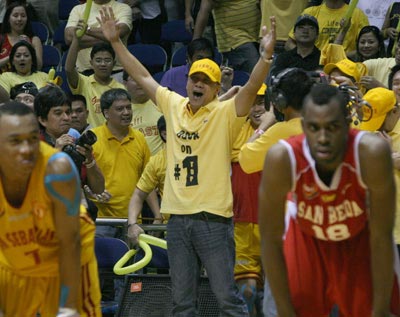 Unknown to many, Daniel not only excelled on the court but also inside the classroom, putting in the work to graduate from San Beda with a minor in marketing management and a major in business corporate communication in 2012.
Daniel said it has always been his goal to graduate ever since he set foot at San Beda. Now he has put that marketing degree to good use at Titan.
"San Beda really taught me a lot," Daniel said. "I was a student-athlete - student being first. I really love my course. As you can see now, madaldal ako sobra. With marketing, it really helped me. You have to be a good people person, talking to others, connecting to the youth, that is something that I can do."
Injuries ruined the final years of his career with the Red Lions, but it was also at that time when Titan came knocking on his door and asking whether he will be interested to work for the company.
"I'm very happy that Titan came in. I ended up getting injured before I ended up finishing my studies. I still see it as a blessing in disguise because I could have been playing and probably be travelling the world. But at least, with Titan, they gave me time to further my career in terms of business which is a blessing to for me."
Daniel has never left the company since, happy to be in a career that keeps him close to his first love.
"It's really a dream come true," said Daniel about his career with Titan. "If you ask my former coaches, I've always envisioned myself in the business world but with basketball ties.
"Yes, I still want to be a basketball player but I've always thought about the transition. This company is giving me the opportunity that most players don't get."
At Titan, he 6-7 Daniel is tasked to organize events such as basketball camps. Recently, Daniel was also part of a SLAM event where Titan welcomed the Gilas cadets who were selected in the PBA draft.
"I help them in all their events. We have a SLAM Summer Hoops camp where I'm the director. We get to help develop young talent who aspire to be a part of high school teams or are already part of the high school teams.
"We also have the (PBA Rookie) Draft Suites, pretty much welcoming the talent," said Daniel.
Daniel is happy to work for a Filipino company, and happier to be able to give back to a country that gave him his first break in basketball as well as free education - never mind the animosity foreign student-athletes get from some fans.
"I've always known that even when I was playing, most people look at foreign students and they kinda look down on them because it's true, most foreign players, when they started out, they really do come (only) to play basketball."
Daniel said he and Ola Adeogun, the man who took over his spot at San Beda, are different.
"You have guys like myself and Ola (Adeogun) who want to help the Philippines because we came here and we kinda adopt to the culture. Not only did we like the culture but we adopted it as our own. Parang Pinoy na ako," said Daniel.
For Daniel, whatever hate foreign players get from local fans cannot outweigh the love they receive from Filipinos.
"We see how hospitable the Philippines is towards us. We get a little backlash but it's nothing compared to the love and that we feel from everyone," said Daniel.