ROMMEL Calahat was the unlikely hero as San Sebastian fought back from 19-points down and shocked Lyceum, 73-71, on Tuesday in the NCAA Season 95 seniors basketball tournament at Filoil Flying V Centre in San Juan.
The rookie center delivered the go-ahead bucket from an Allyn Bulanadi assist with 5.2 seconds remaining, before following it up with a crucial steal on Raymar Caduyac to complete the Stags comeback.
Calahat's heroics made sure Bulanadi's heroic performance of 28 points, seven rebounds, two assists, one steal, and one block did not go to waste as San Sebastian rose to a 9-6 card to stay in solo fourth.
"Malaking bagay ito sa amin dahil we are fighting for our lives," said coach Egay Macaraya. "Kahit pangit yung start namin, the boys showed character. We also showed composure nung last minute and yung win na ito ay credit to the boys."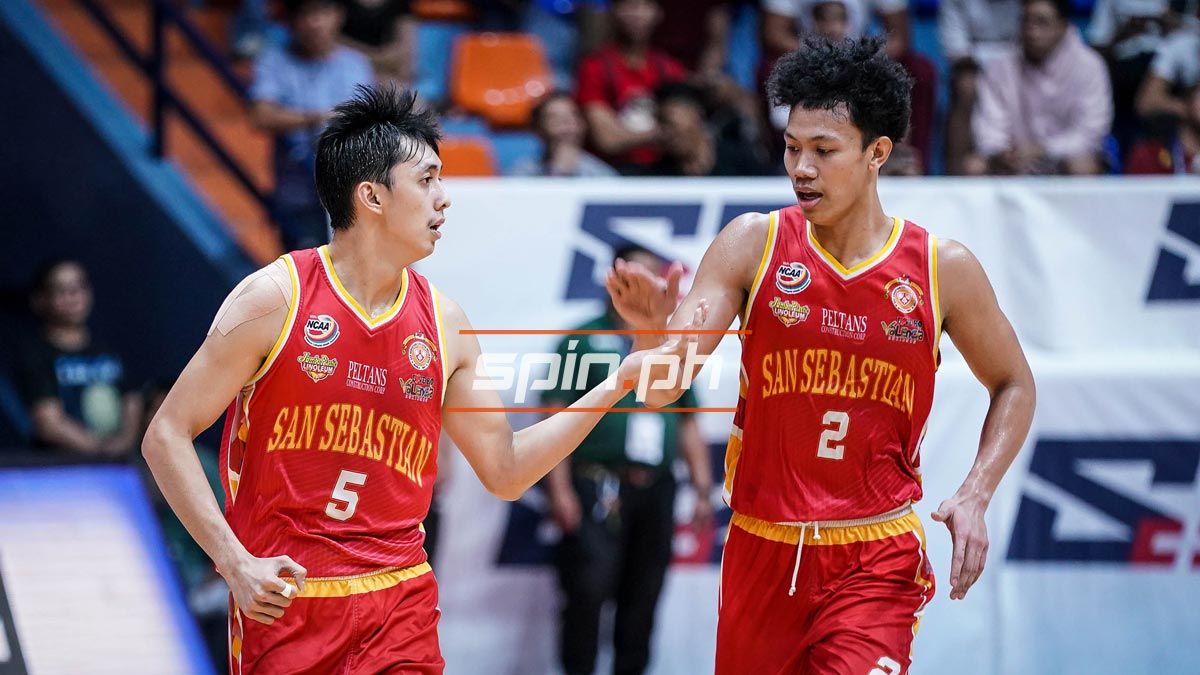 Continue reading below ↓
Recommended Videos
Calahat finished with seven points and eight rebounds.
RK Ilagan had 11 points, three boards and two assists, as Alvin Capobres had nine points and six rebounds for San Sebastian.
It was an amazing rally from the Golden Stags after a lackluster start that saw the Pirates take a 23-6 lead and extend it to 19 points, 41-22 in the second quarter.
But Bulanadi made sure the Stags won't quit, leading the way in an 11-2 rally to make it a 10-point game, 43-33 at the half.
Although the Golden Stags fell behind by 12 anew, 51-39, they once again mounted a 16-2 rally abridging the last two frames, capped off by a Bulanadi bucket to grab a 55-53 lead with 8:29 to play and set up the see-saw ending.
"We just went with the flow. The key was we played good defense and the boys were sharing the ball," said Macaraya.
Jaycee Marcelino led Lyceum with 21 points, 12 coming in the fourth period, while making six rebounds and three assists.
Mike Nzeusseu also churned out a double-double for the Pirates with 16 points and 12 boards, as Jeff Santos scored nine.
The loss denied Lyceum in its bid to secure the No. 2 spot as it dropped to 12-4.
In the process, JRU and Perpetual, both of whom are carrying identical 4-10 cards and playing at posting time, have both been eliminated from the Final Four race.
The scores:
San Sebastian 73 - Bulanadi 28, Ilagan 11, Capobres 9, Calma 7, Villapando 7, Calahat 7, Tero 2, Loristo 2, Sumoda 0, Desoyo 0, Altamirano 0, Isidro 0.
Lyceum 71 - Jc. Marcelino 21, Nzeusseu 16, Santos 9, Caduyac 7, Jv. Marcelino 5, Tansingco 5, Ibanez 3, Navarro 3, Valdez 2, David 0, Yong 0, Pretta 0, Guinto 0.
Quarterscores: 11-26; 33-43; 50-53; 73-71.