SAN Beda wasted no time showing how league elites operate, waylaying St. Benilde, 88-57, to extend its unbeaten run to eight Friday in the NCAA Season 95 seniors basketball tournament at Filoil Flying V Centre in San Juan.
Calvin Oftana spurred the Red Lions' 20-9 first quarter assault that sent the Blazers reeling early.
Frustration continued to mount for St. Benilde, with coach TY Tang getting ejected with only six seconds remaining in the first half as San Beda blew the game wide open and led by many as 31 numerous times in the payoff period.
Oftana scored seven in that quick start in the first period and finished with a new career-best of 27 points, nine rebounds, two steals, and one assist that kept the Red Lions unbeaten in the NCAA for over a year now.
San Beda's last loss came from August 21 of last year in its 73-66 defeat at the hands of Lyceum in the first round.
The streak, however, was the least of coach Boyet Fernandez' concerns.
"As what I've always said, we always take it on a game-to-game basis. We still have 10 more games to go, so we take it one game at a time," he said.
Continue reading below ↓
Recommended Videos
"Our main objective is to make it to the top two so we can have the twice-to-beat advantage. For us, everytime we win, it gives us a bit of a leeway from the teams behind us para di kami kabahan sa dulo."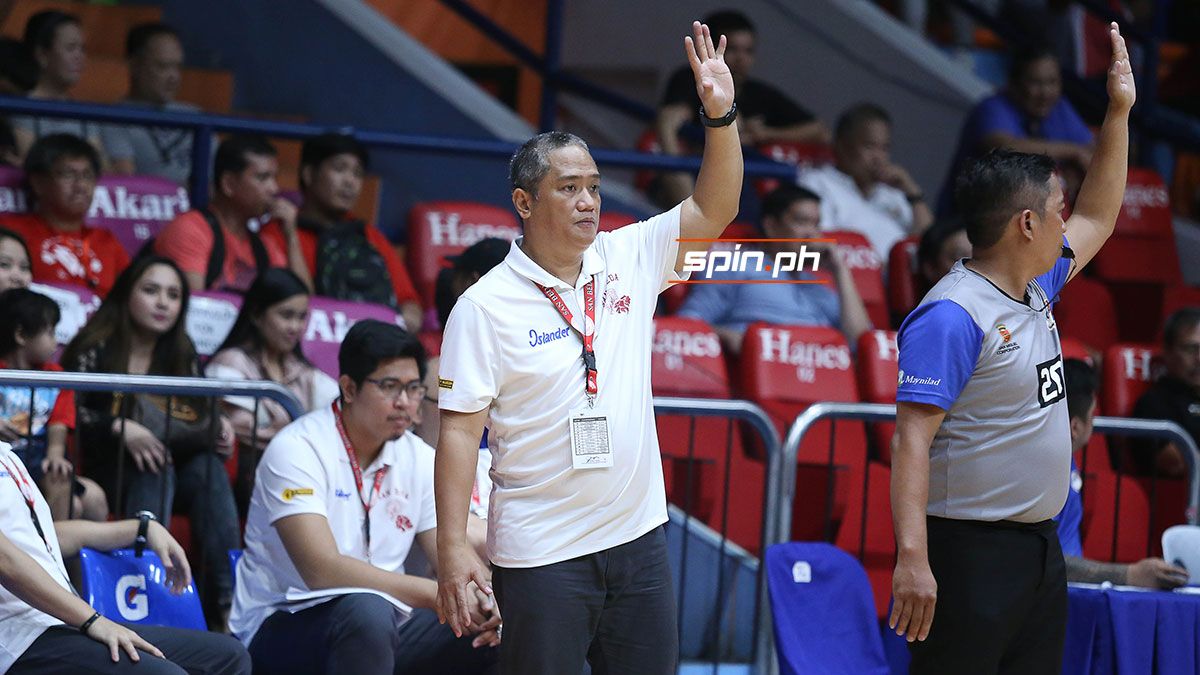 AC Soberano also shot 4-of-8 from deep to wound up with 14 points, James Canlas had 11 points, seven rebounds, and four dimes, and backcourt partner Evan Nelle got eight points, six assists, three boards, and two steals in the win.
Preparation was truly the key for San Beda as Fernandez did his best in readying his wards in this collision between the league's top two teams.
"CSB has been playing well. Medyo kinakabahan ako sa magiging reaction namin in the first part, but I'm happy that my players are starting to play well, and there are players who are solid coming off the bench," the four-time NCAA champion coach said.
Fernandez also lauded the defense San Beda did, holding St. Benilde to a season-low 57 points and kept it on just a 30-percent clip from the field.
Justin Gutang was also limited to just 10 points, though he was able to churn seven assists and five rebounds in the losing cause for the Blazers.
Jimboy Pasturan also had 10 as St. Benilde fell to a 5-2 card.
The Scores:
SAN BEDA 88 -- Oftana 27, Soberano 14, Canlas 11, Nelle 8, Tankoua 7, Doliguez 5, Bahio 4, Visser 4, Abuda 2, Etrata 2, Alfaro 2, Cuntapay 2, Carino 0, Obenza 0, Noah 0.
ST. BENILDE 57 -- Gutang 10, Pasturan 10, Nayve 8, Leutcheu 7, Naboa 6, Sangco 6, Flores 4, Carlos 3, Dixon 2, Belgica 1, Haruna 0, Young 0, Lepalam 0.
Quarters: 20-9, 44-25, 67-39, 88-57.