SAN Beda took the biggest blow after the NCAA meted out sanctions in the scuffle between Robert Bolick and Carlo Young late in the game it won against College of St. Benilde.
In a statement released by the league on Wednesday, the NCAA handed out one-game suspensions to to both Young and Bolick for sparking the scuffle in the closing minutes of San Beda's 72-58 win on Tuesday in the second round of eliminations in Season 93.
Young was obviously given the suspension following a dangerous play on Bolick when he sent the Red Lions star crashing after pulling Bolick on the neck.
He won't available for the Blazers when they take on the Lyceum Pirates on Friday.
Bolick will also be suspended after officials rejected the appeal of the defending champions to downgrade his disqualifying foul.
The 21-year-old combo guard expectedly reacted to Young's foul, with officials claiming Bolick threw a closed fist in retaliation but replays turn out to be inconclusive. The prized transferee was also given a stern warning by the league for disrespectfully addressing the officials.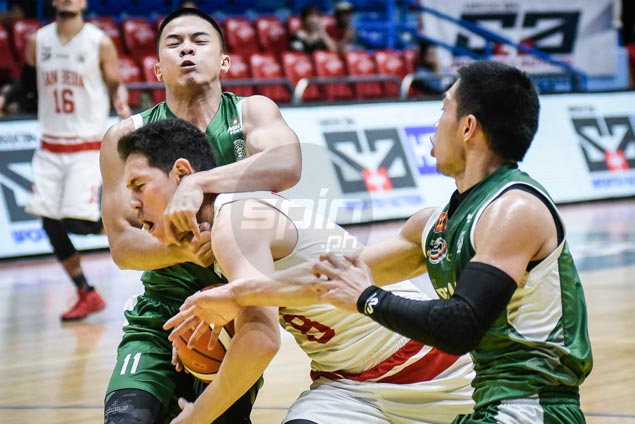 Continue reading below ↓
Recommended Videos
Clint Doliguez also won't be available for the Red Lions' next match for entering the playing court during the altercation when he was supposed to stay on the bench.
But while the suspensions on Young, Bolick and Doliguez were expected, San Beda took a third hit as head coach Boyet Fernandez who will also be suspended for one game for his tirade following the match.
[See Boyet Fernandez says NCAA officials 'destroyed the future' of MVP candidate Robert Bolick]

Bolick and Fernandez vehemently denied that there was a closed fist thrown in there but it seems like there's nothing the Red Lions can do now with the decision.
Fernandez reasonably blew his top after the game and criticized game officials for how they handled the situation.
In a rant, Fernandez called out NCAA Commissioner Bai Cristobal claiming that his judgement 'destroyed' Bolick's future.
This was obviously referring to the NCAA rule where suspended players will be disqualified from being given individual awards by the end of the season.
He also blasted the officials for not giving an explanation to his queries and claimed that he even got penalized for asking about the officiating.
While Fernandez' suspension came as a surprise for many, it was apparent that the two-time NCAA champion coach was already given a warning for calling out officials in the past after San Beda's tough win over Perpetual roughly three weeks ago.
The three will be missing on Friday when the Red Lions target their ninth straight win against the skidding Mapua Cardinals at the Filoil Flying V Center.