[Editors' note: With this piece, SPIN.ph bares the fifth member of our Top 10 Sports Heroes of 2017 leading up to the announcement of our 2017 Sportsman of the Year]
FOUR years ago, the name Robert Lee Bolick was relatively unknown after spending two seasons warming the bench for La Salle.
But coming off one of the best performances in the clutch in NCAA history, Bolick's stint with the Green Archers has now become an afterthought.
Leaving a tried and tested winning program like La Salle, though not something entirely new, is one bold move to say the least – a risk that not everyone would be willing to take given the chance.
But Bolick bet on himself. And the gamble has paid off well with his transformation from benchwarmer to becoming one of the premier collegiate players in the country.
"I'll always be thankful sa La Salle of course. Nag-champion din ako doon and that's something na hindi ko makakalimutan," said Bolick, who's now a two-time champion with perennial NCAA powerhouse San Beda. "But you have to choose what's best for you."
In winning two NCAA titles, Bolick wasn't sitting on the bench cheering on like he did back with La Salle. This time, he had even demanded the ball in the biggest moments — and delivered.
Continue reading below ↓
Recommended Videos
Facing a Lyceum squad that hadn't lost a game in the elimination round – Bolick took matters into his own hands and etched out his place in San Beda's history.
In that series, Bolick averaged 21 points a game to go along with 4.5 boards and four assists. But more than the numbers, it was his performance down the stretch that made everyone take notice.
Bolick averaged nine points in the final quarter in those two games. When he was not draining tightly contested three pointers like he did in Game One, he was setting up his teammates for the open look, like a conductor of an orchestra who made sure everyone hits the right note in one amazing encore.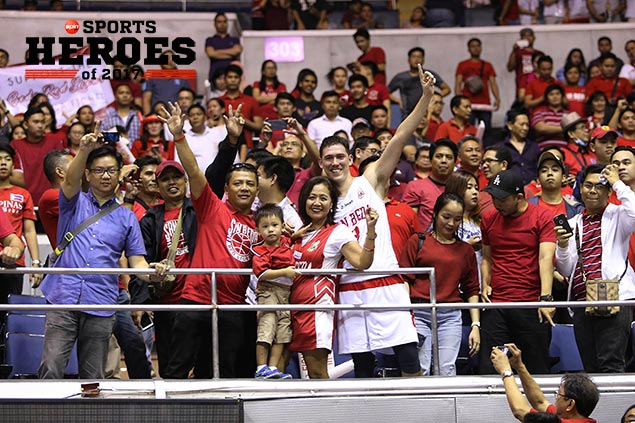 But what made Bolick's run in the finals all the more impressive was his leadership and humility, a stark contrast to the brash image the 21-year old combo-guard showed on the court during the Finals sweep vs Lyceum, as he was screaming his lungs off in celebrating one big shot after another.
For Bolick, it was just his outlet for the emotions deep inside him – roars of vindication after his long journey out of anonymity to one of the top clutch players in college ball.
"Hindi ko na alam kung anong nangyayari noon," Bolick exclaimed with a smile. "Talagang gusto ko na lang isigaw lahat kasi hindi ko na alam ang nangyayari noon."
Bolick's rise from a benchwarmer to a bona fide star now being considered to be a part of the national team in the future has been told and re-told countless times after two stellar seasons with the Red Lions.
But what Bolick would always emphasize is that the transformation did not happen overnight. While he's happy to serve as an inspiration, Bolick was quick to remind everyone that it comes with pure unadulterated hard work.
"Yan ang testament ng hard work. Maraming walang may alam ng pinagdaanan ko. Yung hard work, yung dedication na nilalagay ko araw-araw sa game," Bolick explained.
"Pag transfer ko, inisip ko kaagad na doblehin ang effort ko. Doble kayod talaga at tiwala lang sa Diyos at sa sarili," he added.
Amid all the achievements and the recognition that he's having now, what's so gratifying about Bolick is how he serves an inspiration to everyone who's been counted out. That amid the tough times – taking a risk as long as it's accompanied by hard work and perseverance, does pay off.
"Yun naman talaga ang mindset ko ever since, na sana maging inspiration ako sa mga tao na feeling nila wala silang pag-asa. Sa mga bangko dito, sa mga player na galing probinsya," Bolick continued.
"Lahat yan, pag tinrabaho mo, malayo mararating mo."